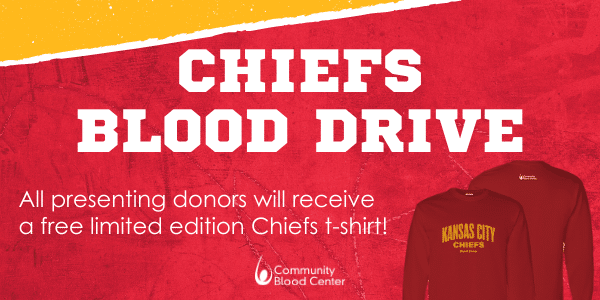 Community Blood Drive
December 21, 2020 @ 11:00 am – 5:00 pm
Save lives by donating blood!
Legends Outlets is teaming up with the Community Blood Center again to help fill a critical need in the KC area. All presenting donors will receive a free, limited edition long sleeve Chiefs shirt. Please reserve a donation time to allow for adequate social distancing. CLICK HERE TO MAKE AN APPOINTMENT.
Know what to expect and how to prepare: Please click here to learn more about the donation process and for tips on what to do before donating! 
Legends Outlets Community Blood Drive
When: Monday, Dec. 21
Hours: 11 a.m. to 5 p.m.
Location: Legends Outlets | Space #C-113 (on the lower level of the center in the west end, next to Soma Intimates and across from Michael Kors)
Closest Parking: Multi-level parking garage located on the northwest side of Legends Outlets near the freestanding Verizon Wireless store
To Book: Appointments are preferred; Walk-ins are welcome if capacity permits. CLICK HERE TO BOOK YOUR APPOINTMENT.
Contact: For additional details contact Diane Neubecker at 816.315.1390 or dneubecker@cbckc.org
Why give blood?
Help save lives. Community Blood Center supplies 90% of the blood needs for the Kansas City and surrounding areas. We need a 7-day inventory of blood for the 65 area hospitals we serve, but have less than a 3-day which is one of the lowest levels in our 60-year history.
Community Blood Center Safety Precautions:
Pre-check registration table: Please wear a face mask to your donation. If you do not have one, we will provide you with a mask upon your arrival. Staff will also check appointments, check temperatures and ask pre-screen COVID-19 questions. Remember to bring a photo ID or donor ID card. For questions about eligibility due to travel outside the U.S., medications or medical conditions call 1.800.688.0900.
PLEASE DO NOT DONATE IF:
You have experienced symptoms of COVID-19 such as fever, chills, cough, shortness of breath or difficulty breathing in the last 14 days
You have had a positive COVID-19 diagnostic test (nasal swab test) in the last 14 days
You are currently on self-quarantine restrictions
Our staff members are trained in universal precautions to help prevent the risk of spreading infections. Additionally, we are taking extra precautions to disinfect tablets and donor beds in between each use and to space out chairs and beds whenever possible to avoid unnecessary contact. As always, any individual who is experiencing symptoms of illness is not to attend a blood drive. For more information regarding CBC's response to COVID-19, visit www.savealifenow.org/coronavirus.