At the beginning of the new year, I always treat myself with some new workout gear to help further motivate me and make me excited about my fitness goals. Because what's better than going to the gym in a cute new workout outfit? It not only helps me to LOOK like I'm going to go slay my workout but also makes me FEEL so confident too!
So this year, I set a Saturday shopping date with my mom at Legends Outlet for one of the first weekends in January. After all the crazy holiday shopping and hustle to find perfect gifts, I was excited to be able to leisurely shop without having a set list of things we had to find. I did have a couple of things that I was hoping to find, such as (1) new workout shoes (I haven't bought new shoes in over a year!) and also a new equipment to add to my home gym.
Our first stop was at the Victoria's Secret|PINK store. They have such a great selection of activewear – as soon as I walked it I grabbed a shopping bag because I knew I was going to want to try on a lot! I absolutely love their new seamless line – the leggings are SO comfortable and I ended up taking them home in this dark green color! I also fell in love with this velvet lined sports bra – so feminine and unique – and this pink jacket to throw on before and after my workouts! Their twist front sports bras fit so well too and I ended up taking home one in this basic black.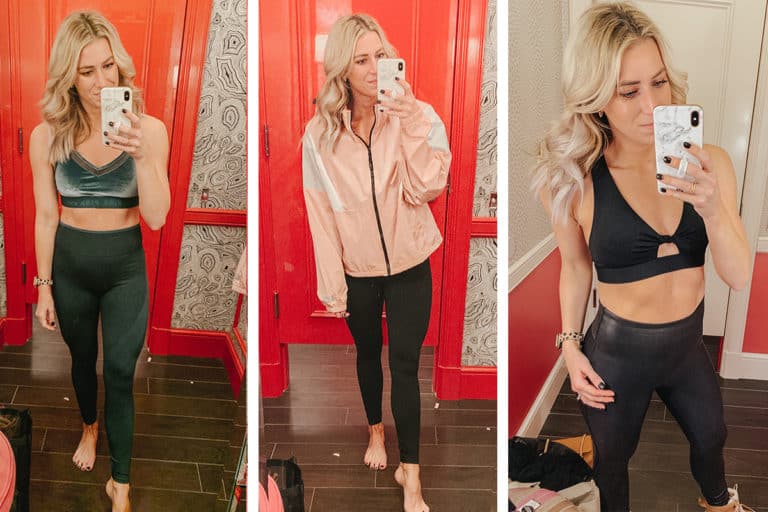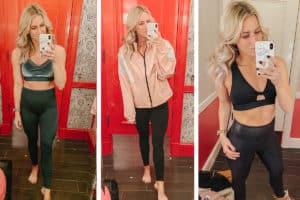 Next stop: Nike Factory Store. I've been on the hunt for a cute, sporty puffer jacket to to wear to my workouts and also casually on the weekends. This puffer coat in robin egg blue immediately caught my eye and was on sale for 25% of the price that you would buy it for online! I was so happy to find the new sneakers I was on the hunt for here, too!! I tried on about 5 different pairs, but ultimately fell in love with this Epic Flyknit sneakers. I like the look of the all-white shoe with the pop of bright colors.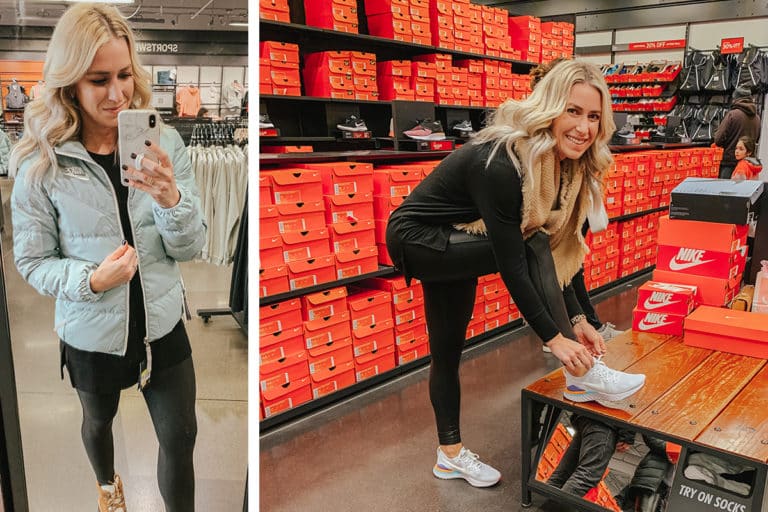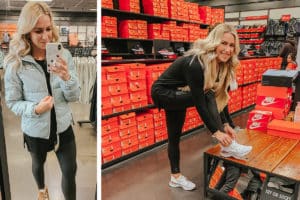 We also stopped in at the Adidas outlet and the entire store was 50% off, including their Cloudfoam sneakers which I have been eyeing forever! I also picked up a really cute kid's sweat set for my toddler son.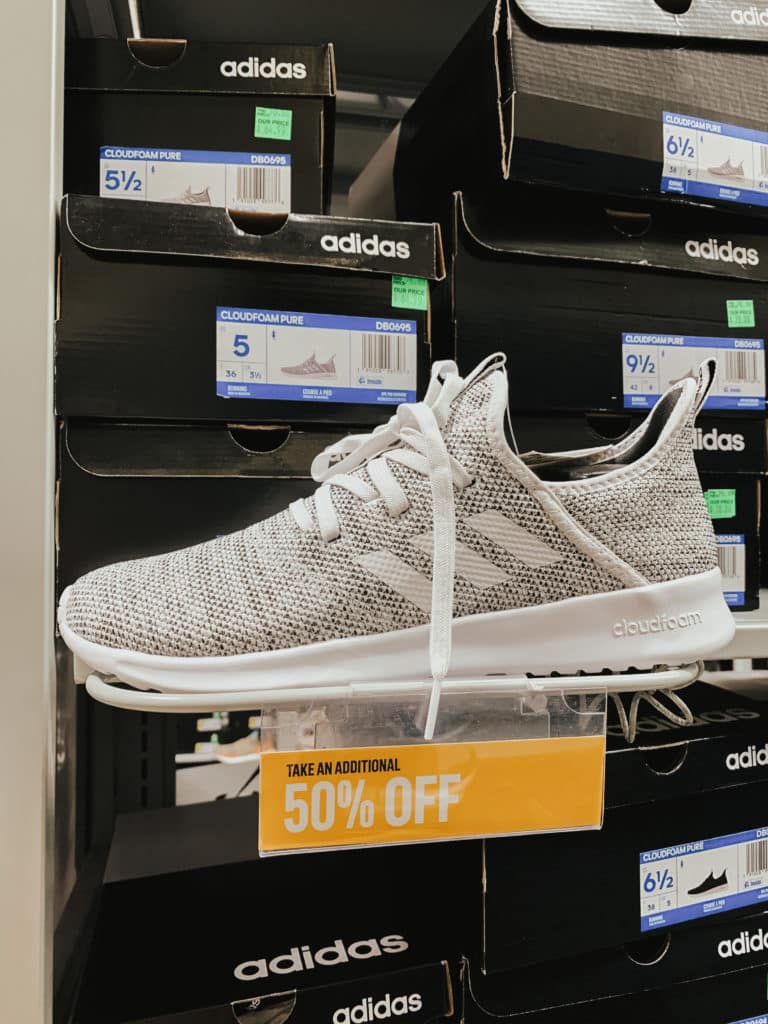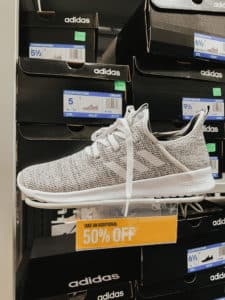 We then headed on over to Jockey – I love their seamless bras – they are so comfortable for lounging and are even comfortable enough to sleep in. I picked up a cream one and a white one since they were BOGO half off! I also highly recommend their seamless underwear – they're all I wear under workout gear and leggings!
Our final shopping stop was HomeGoods – my mom and I both could spend hours in here! The first thing we saw when we walked in was a display home fitness gear which was perfect. I picked up this thick yoga mat with a carrier for only $12.99 – such a steal and such great quality. I also couldn't belive they had 10 lbs dumbbell sets for only $7.99 – I've never seen weight sets priced that low. They also had a good variety of resistance bands. If you're needing to add any equipment to your home gym I highly recommend checking out HomeGoods for some great pieces!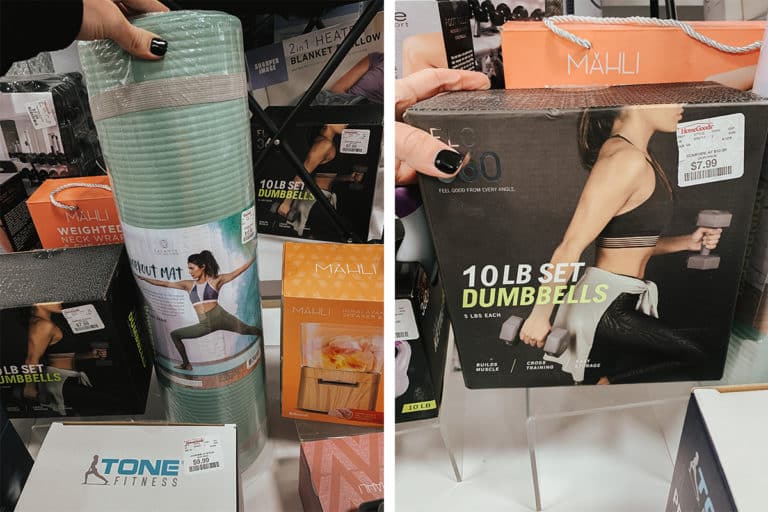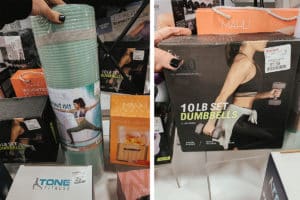 We decided to stop in to Stix for a bite before heading home. We ended up grabbing a drink and taking carryout to-go since we were tired from our shopping day! Stix has an awesome deal where if you order more than $15 of carryout online you get a free California roll – so I got all of this deliciousness for only $18! I ended up ordering the Dynamite Roll, the California roll and one Crab Nigiri.
Overall it was a great girls' shopping day at the Legends. I came home with so many cute activewear pieces and workout gear. It was the best motivation to get a head start on my fitness goals and to crush it in 2020!