Easter is on its way, and we are here for the springy styles adorning the racks at Legends Outlets. Add to that the warming temperatures, and we were excited to do some outdoor shopping! We went on a mission to find versatile looks for all the kids in your family for a weekend full of family, fun, fellowship … and sweet treats!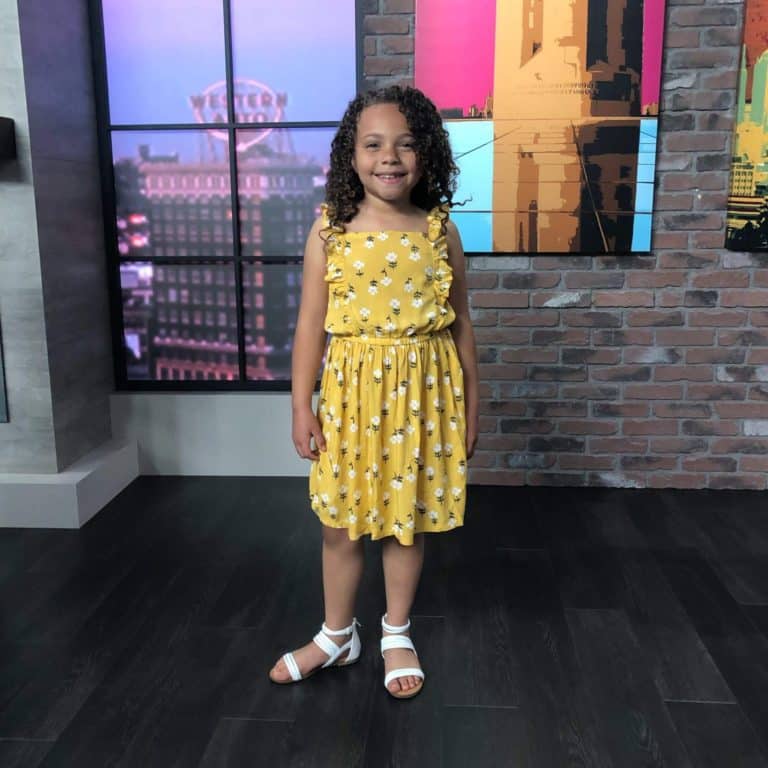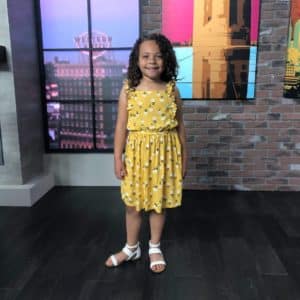 TRENDY PRINTS FOR LITTLE GIRLS
Mia is wearing a dress from Carter's in this spring's new color, sweet mustardy yellow. We have been loving this color for fall and are so excited to see its appearance as a warm spring tone! The fresh floral print is everywhere this spring and isn't going anywhere so feel free to get all the blooms! Spaghetti straps and ruffle details make this sweet sundress a great transitional piece along with her white strappy and braided Nina sandals from Off Broadway Shoes. Consider layering this look with a white cardigan for your Easter events, then, enjoy the breezy vibe of this carefree dress outfit all summer!
BRIGHT LITTLE BOY BASICS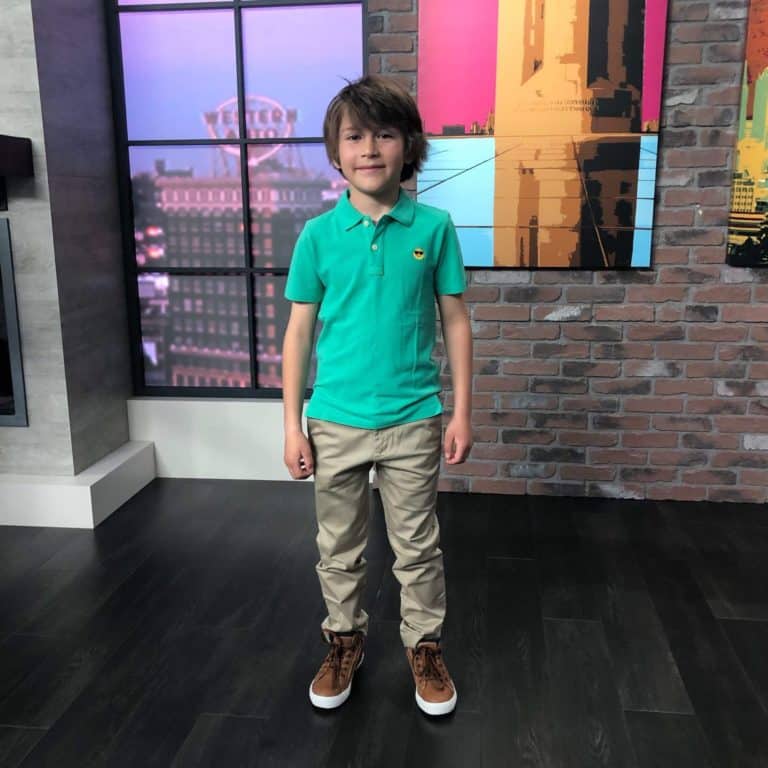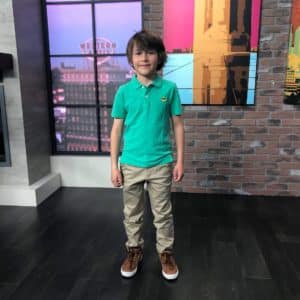 Bentley is wearing a signature spring look: crisp chinos and a preppy piqué polo shirt. While options abound, we chose these from Crewcuts at J. Crew Factory, because we loved the quality and the huge assortment of fun, springy pastels, including this beautiful sea foam green one with a cool emoji on the chest. For maximum egg hunting speed, opt for a dressed up version of a traditional sneaker like these caramel leather high-top Sprox shoes from Off Broadway Shoes.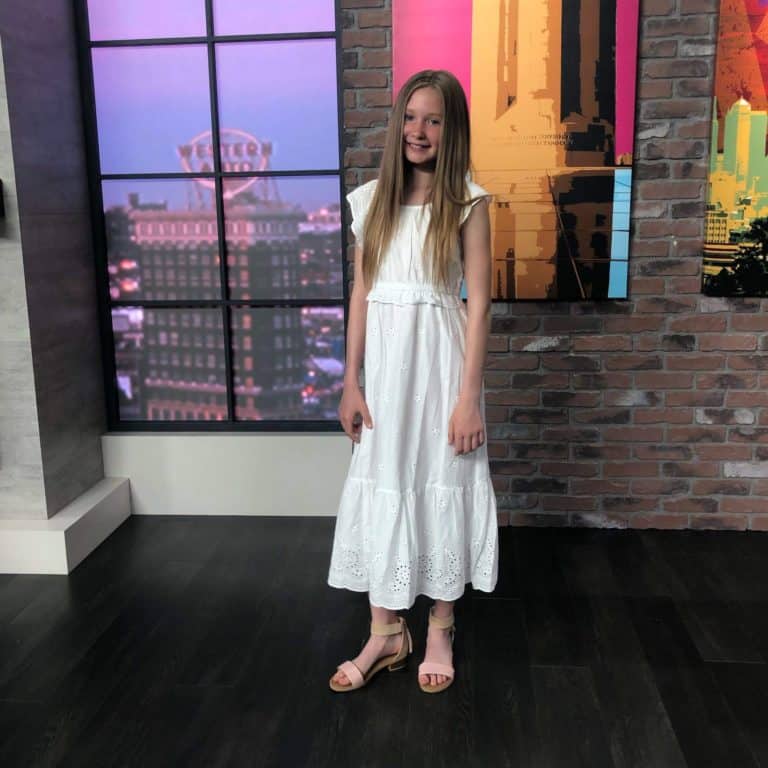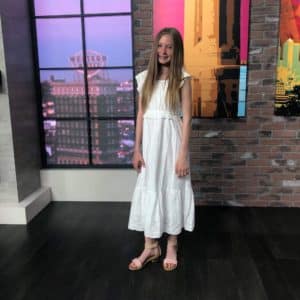 DREAMY TWEEN DRESS VIBES
Sophia is wearing a romantic tiered peasant dress from Justice. We fell in love with this dress right away because of its on-trend details that we can't get enough of this spring, including fluttery sleeves, eyelet details and midi length. While we were at Justice, we had trouble picking our favorite shoe from all the chic options for teens and tweens but decided on this minimalist sandal featuring rose gold vamp strap and a cognac ankle strap. Sophia can dress this look up or down this summer, but we personally would love to see her style it in the latest western trend by adding a belt, boots and denim jacket this fall!
UPDATED STAPLE STYLES FOR BIG BRO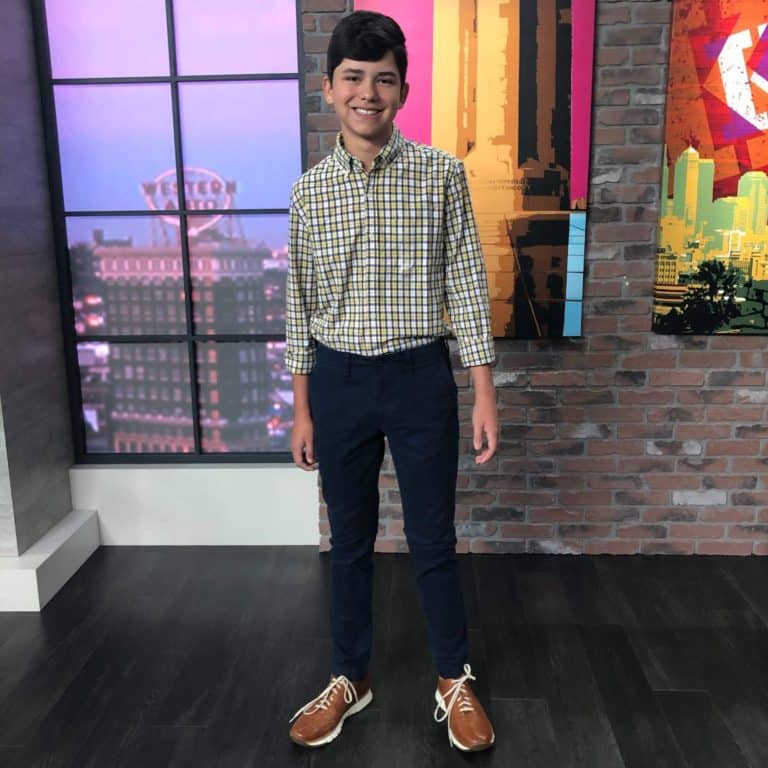 Cayo's Easter look is another classic. His outfit came from Gap Outlet and includes a fresh oxford button-down in yellow and blue plaid (but there are TONS of variations if you're looking for a special color scheme) and navy chinos in a modern skinny fit. We spiced up this traditional outfit with the latest trend in guys' footwear: the updated athleisure loafer. We nabbed these at Off Broadway Shoes — we love the perforated detailing on the rich brown leather and the refreshed look of the white midsole. For your casual dude, there are a lot of cool options in this design at Off Broadway Shoes for every price point.
So, what are you waiting for? Hop on out to Legends Outlets, soak up some sun, and outfit the family at great prices for this upcoming Instagram-worthy holiday weekend!