When it comes to staying on top of the latest fashion trends, local Kansas City Influencer, Molly Kuplen, is the one to watch! With her keen eye for styles and passion for sharing fashion finds with her followers, Molly recently took a shopping adventure to Legends Outlets. We are excited to give you an exclusive look at the fabulous accessories she recommends to add to your wardrobe this season.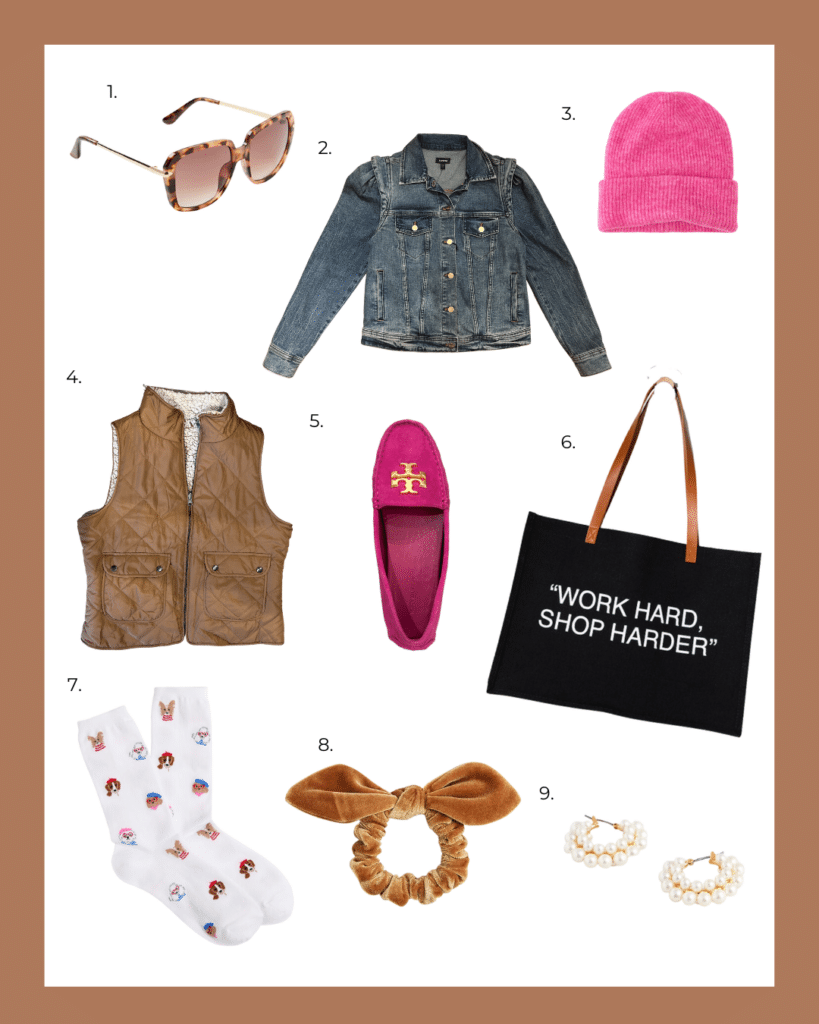 Oversized Square Sunglasses, LOFT:
These stylish shades are not only perfect for adding a touch of glamour to your fall outfits, but also offer protection from the bright autumn sun. The oversized frame is on-trend and will undoubtedly make a statement wherever you go!
Puff Sleeve Denim Jacket, Express:
No fall wardrobe is complete without a versatile denim jacket! Whether you're layering it over a flowy dress or pairing it with jeans and a t-shirt, this jacket is a must-have for staying cozy and chic.
Bestie Beanie in Hot Pink, American Eagle:
As the weather starts to cool down, a beanie becomes an essential accessory. By adding a pop of color, pick up this hot pink hat from American Eagle! This beanie not only keeps you warm but also adds a fun and vibrant touch to your outfit.
Reversible Sherpa Vest, Francesca's:
For a cozy and stylish layering piece, Molly recommends the Reversible Sherpa Vest from Francesca's. With its soft fabric and versatile design, it's an ideal addition to your wardrobe. Layer it over a sweater or long-sleeve shirt for extra warmth.
Ballet Loafers in Magenta, Tory Burch:
These elegant and comfortable shoes are perfect for both work and casual outings. The vibrant magenta color adds a pop to your outfit, making them a standout choice for any occasion.
Work Hard Shop Harder Tote, Francesca's:
This spacious and fashionable tote bag is perfect for carrying your essentials while on the go. Plus, it's chic design lets you make a statement for ones who love to shop in style!
French Dog Trouser Socks, J.Crew:
Socks don't have to be boring, and J.Crew proves it with these! The French Dog Trouser Socks are not only soft but also feature an adorable bulldog pattern that adds a touch of playfulness to your fall wardrobe.
Velvet Scrunchie with Bow, J.Crew:
Molly couldn't resist the charm of this scrunchie as they've made their comeback to the fashion world! Add a touch of elegance to your hairstyles this fall with a velvet texture and bow detail.
Layered Mini Pearl Hoop Earrings, J.Crew:
These delicate earrings are perfect for adding a touch of sophistication to your fall outfits. The layered hoops and pearl accents create a timeless look that can be dressed up or down.
Conclusion:
Molly Kuplen's recent fashion haul at Legends Outlets is a treasure trove of fall fashion inspiration! From vests and denim jackets to bows and beanies, these accessories are sure to help amp up your autumn style. So, head to Legends Outlets and grab these fabulous finds to step into the fall season with confidence and flair. Don't forget to follow Molly, @mollykuplen, on her social media channels for fashion tips!