Halloween is just around the corner, but don't be scared! We have some great ideas that work with what you have in your wardrobe to build upon for the cutest — or creepiest — looks this season! Look to pop culture and current trends for your inspiration and start with wardrobe basics that you can re-wear after the trick-or-treating is over. From there, head to Spirit Halloween at Legends for your novelty and licensed apparel and accessories to complete your costume!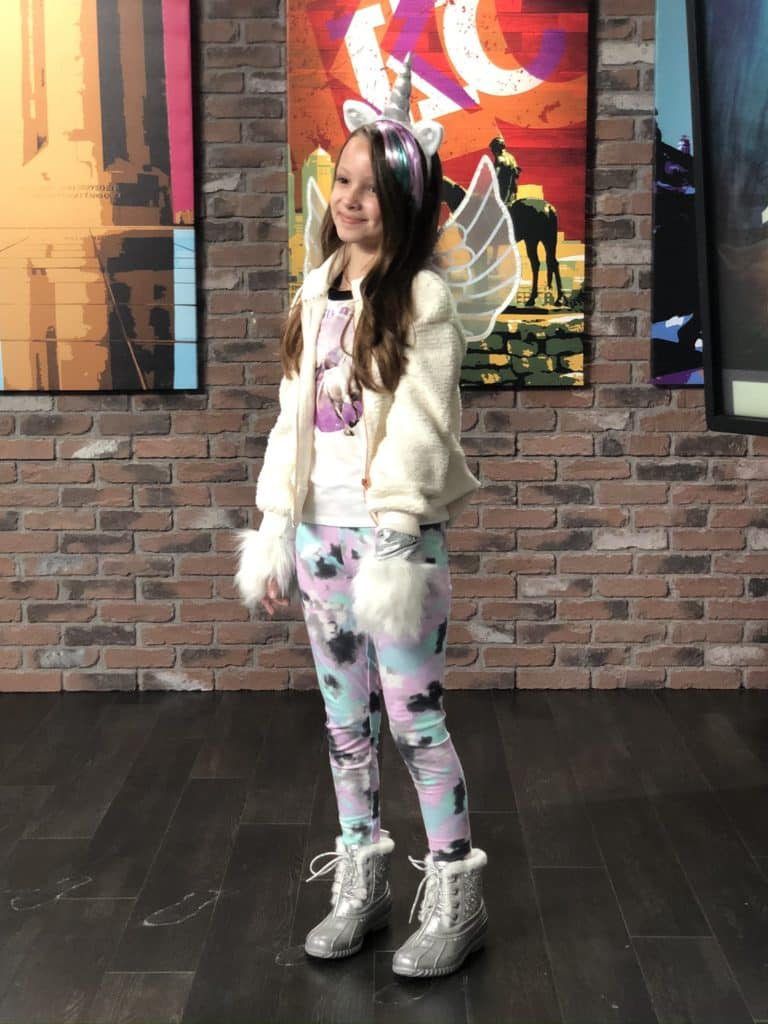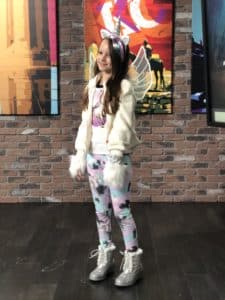 From littles to bigs, who doesn't love the glittery magic of unicorns right now?! We started with some super trendy basics from our friends at Justice, incorporated some cold weather pieces (in case the weather gets crazy), and then added on some fun, whimsical accessories to complete this look. 
On Stella: watercolor athletic leggings, "totally magical" tee, sherpa zip-up with rose gold accents, and glitter fur-lined snow boots – all from Justice; unicorn headband with horn, hair and matching tail, fuzzy unicorn cuffs, unicorn wings, and sparkly unicorn makeup palette – all from Spirit Halloween.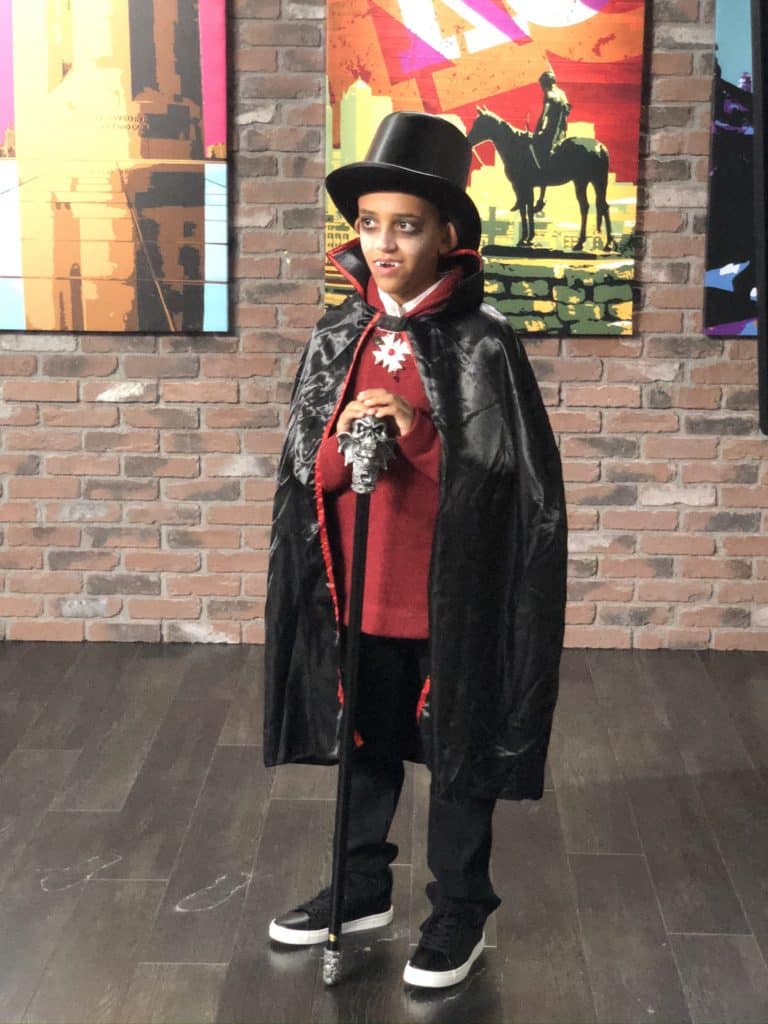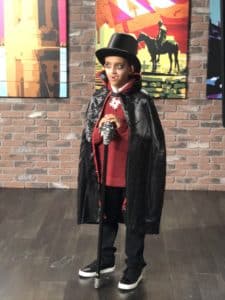 You can never go wrong with this creepy classic! Start with dressy staples from your closet, and don't be afraid to layer with sweaters in gothic colors like dark red or bold purple to add warmth for cool nights. From there, darkened eyes, white cheeks and even some blood around the mouth make a scary-good costume for any age! 
On Kaulib: skinny black chinos, white oxford button-down shirt, red shawl collar sweater, and leather sneakers from Old Navy; collared vampire cape, top hat, vampire brooch, vampire staff, plastic vampire fangs, and darkening eye makeup, all from Spirit Halloween. Note: we skipped the blood for a daytime, school-friendly look, but don't forget to add it for serious trick-or-treating!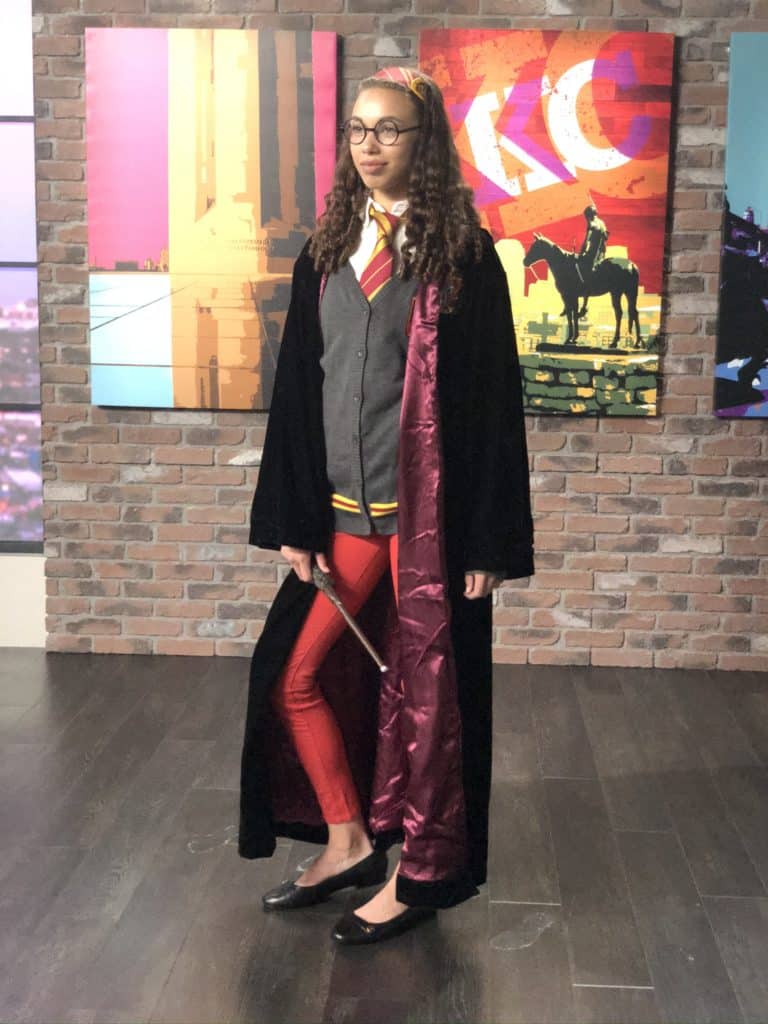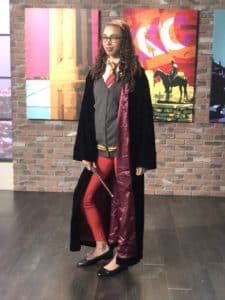 Even today, Harry Potter is all the rage and we are still here for it! Whether you're a die-hard Slytherin, or just a fan of wizardry, the sky's the limit when it comes to the cool costume options for this pop culture phenomenon. We started with a preppy look to mimic the Hogwarts school uniform, then layered on licensed Harry Potter accessories to complete this smart ensemble. Pro tip: start by choosing your house, and build your color palette from there. We chose a classic — Gryffindor — and had a blast with the red and gold color scheme for this look. 
On Alexa: red chinos, white button-down oxford, and sweet ballet flats from Polo Ralph Lauren Outlet; striped necktie, letterman's cardigan, round eyeglasses, magic wand, and deluxe Gryffindor robe, all from Spirit Halloween.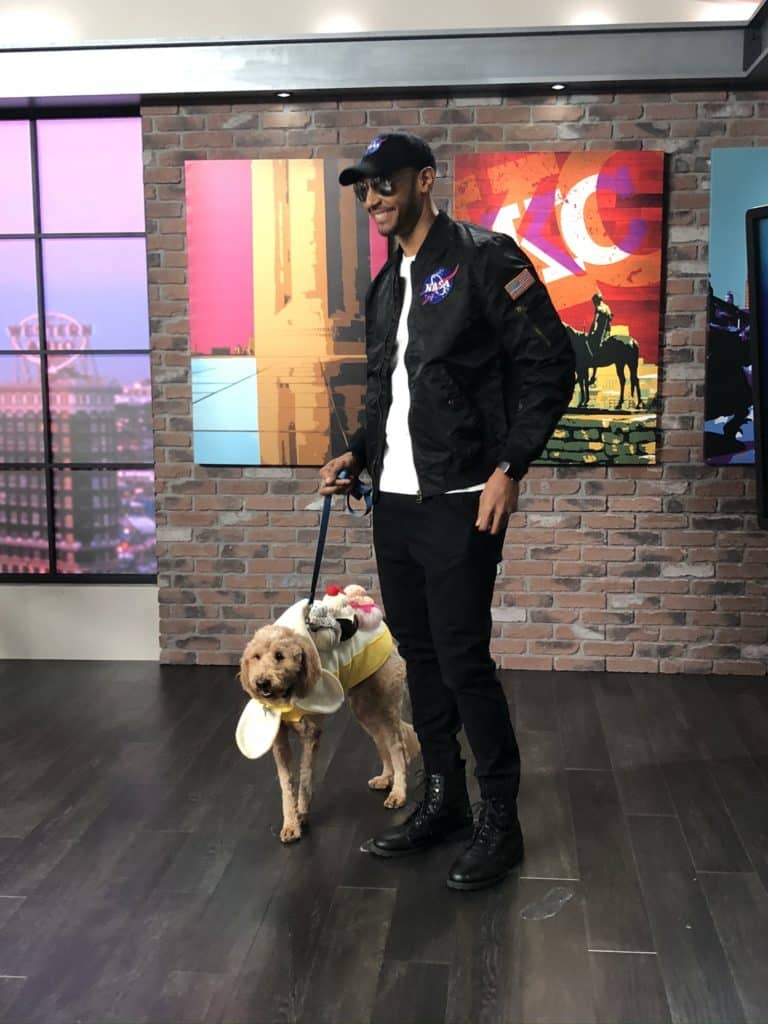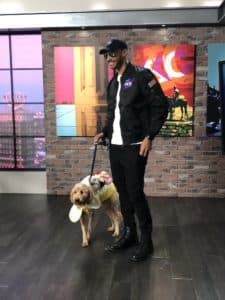 NASA is having a moment and we are loving the empowered, intelligent, and creative S.T.E.M. message it's sending to kids. With tons of logo apparel and tech-inspired wardrobe options, kids of any age will enjoy wearing their NASA costume pieces long after the candy stash has been depleted. We started with athletic and tech style basics, then added logo accessories to make this ultra-easy costume ready in a flash!
On Juston: cargo joggers, white NASA logo tee, NASA logo nylon bomber jacket, NASA logo baseball cap, and high-top sneakers – all from H&M; aviator sunglasses from Spirit Halloween. Bonus: do you have a headphone addict in your midst? Add some tech savvy headwear for extra mission-control vibes!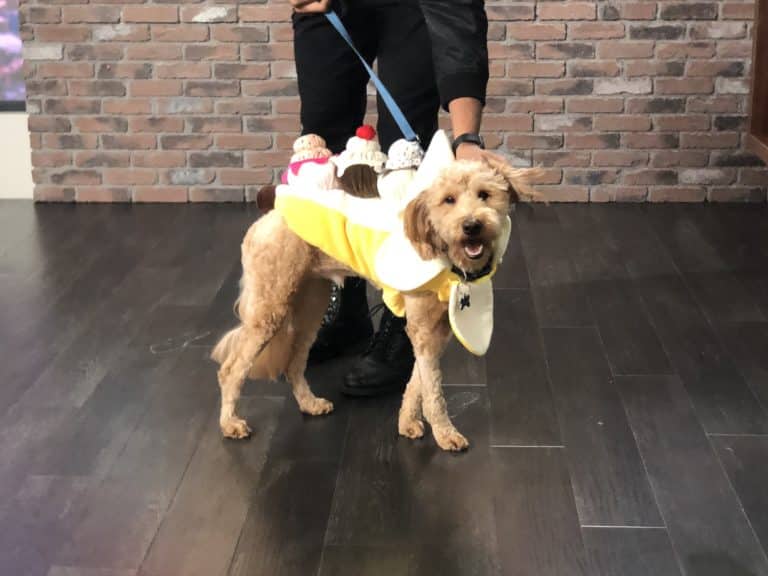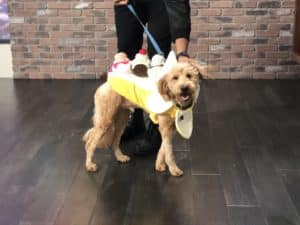 And, who could forget our favorite four-legged friends?! Stores like T.J. Maxx carry a ton of cute outfit ideas for our best friends, and we couldn't pass up this banana split costume for Henry!