Welcome to Legends Outlets!
SPECIAL OFFERS EXCLUSIVE TO CONFERENCE ATTENDEES:
*Additional offer available in VIP Savings
*AUNTIE ANNE'S
Buy a pretzel bucket and get 2 medium drinks free
*BANANA REPUBLIC
Friends & Family – 50% discount on everything in store + extra 25% off 1 item
Code: VIP25
*CHICO'S
Extra 10% off
*ROCKY MOUNTAIN CHOCOLATE FACTORY
Spend $20 and get a FREE plain caramel apple
TORY BURCH
Sip & Shop – Enjoy complimentary champagne while you browse the new fall collection & receive a free *perfume sample
*While supplies last
YARD HOUSE
Friends & Family Discount – 25% off (excludes alcohol & Happy Hour menu)
Note: Alcoholic beverages can now be enjoyed on The Lawn!
*YOGURTINI
Buy one Frozen Yogurt and get one 25% Off
For more Legends Outlets VIP savings, click HERE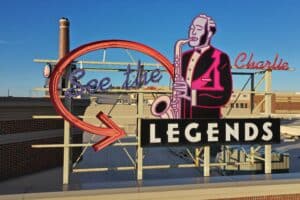 Meet the Legends
Legends Outlets showcases famous Kansans in athletics, music, exploration, science, technology, politics, art and much more, recognizing the men and women who make the state truly unique. Each courtyard and corridor at Legends Outlets is dedicated to a particular category of famous Kansan or aspect of the state and its history.