4TH OF JULY SIZZLING SAVINGS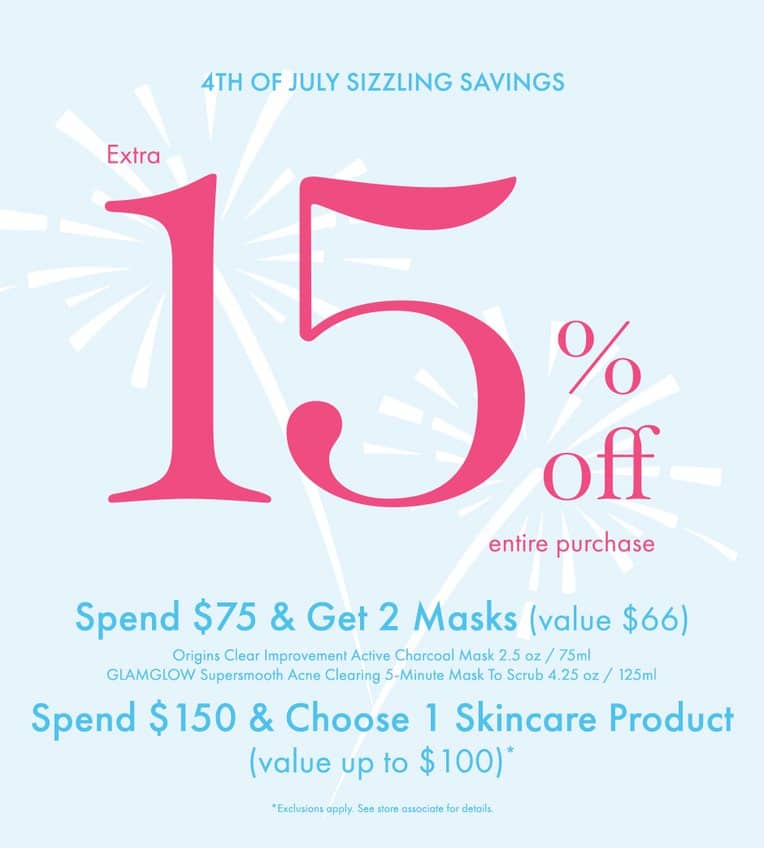 Receive an EXTRA 15% off your entire purchase and get free skincare products when you shop!
Spend $75 and get 2 masks (Value $66)
Origins Clear Improvement Active Charcoal Mask (2.5 oz/125 ml)
GLAMGLOW Supersmooth Acne Clearing 5-minute Mask to Scrub (4.25 oz/125 ml)
Spend $150 & Choose 1 Skincare Product (Value up to $100) *
Exclusions apply. See Store associate for details
*Standard exclusions apply, please see a sales associate for more details. Offer NOT combinable with current % off promotions. Offer NOT combinable with bounce backs. Offer NOT combinable with current GWP promotions. Offer combinable with Employee Discount once spend threshold met. As part of The Estée Lauder Companies we offer award winning premium skincare, makeup, haircare, and fragrance products from a collection of prestigious brands including Estee Lauder, Clinique, & MAC. We have now grown to a global portfolio of over 150 outlet stores worldwide. We look forward to welcoming you to one of our stores near you soon.
https://www.facebook.com/TheCosmeticsCompanyStoreAmerica/
ADDRESS:
1829 VILLAGE WEST PARKWAY, SUITE T-123 KANSAS CITY, KS 66111
LOCATION: