If you don't own 20 pairs of jeans before finding the "one", are you even human? For many, the journey to finding your favorite pair of jeans is as exhausting, frustrating, and as time consuming as dating. From 50 shades of denim and countless styles to wide leg, skinny and straight, to high rise, low rise, and everything in between, the denim selection has never been more diverse (and for good reason). Finding your favorite pair of jeans is about choosing a pair that makes you feel confident, beautiful, and fits your own style and body- not whatever the current "on-trend" mold happens to be. And there's nothing more stylish than someone wearing an outfit that fits them just right – especially when it comes to jeans!
Read on for our take on today's denim trends + our style tips to help you find the perfect pair of jeans for YOU!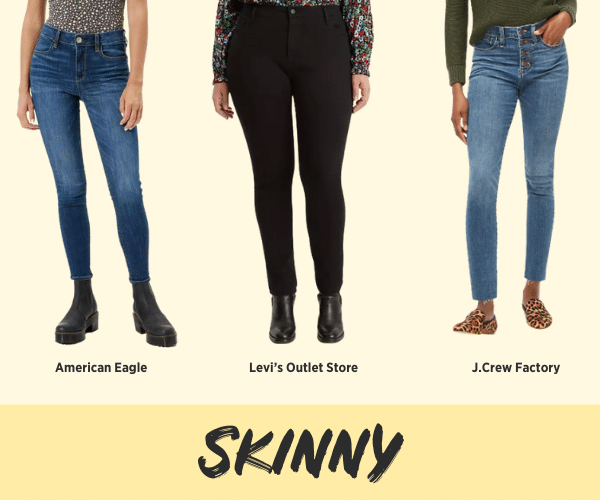 According to Gen Z, skinny jeans are so yesterday. Well, we're here to tell you they're not going anywhere yet! The Skinny Jean has come a long way over the last several years. Gone are the days of wearing ultra-tight, can't-bend-over-without-risking-a-ripped-situation jean. Most importantly, gone are the days of cutting off your circulation for the sake of fashion. Enter: the skinny jeans of today; soft, breathable, and flattering on every body type. Skinny jeans have the power to transition from polished and office-ready, to out on the town and everywhere in between.
TIPS
— Opt for more structured fabrics; you'll get a lot more wear out of them.
— Avoid jeans that have a high percentage of spandex (the tag will tell you the ratio of fabrics used).
— To achieve a longer, leaner look: Stick to higher-waisted, dark-washed denim with minimal distressing. This gives you a clean line from the smallest part of your waist to the smallest part of your ankles. Hello, legs for days!
— Length: Should hit just above the skinniest part of your ankle – if regulars are typically too short or too long on you, look for stores that offer more sizing options such as tall, short, petite, etc. (Check out the handy sizing chart at the end.)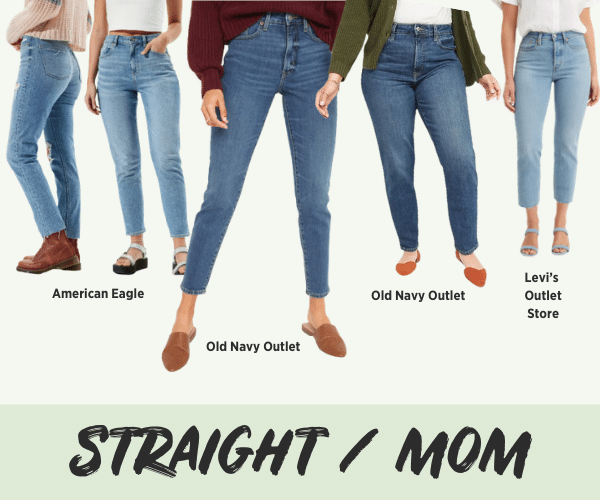 The jean of the 'gram is here to stay. Reason number 6980 we ❤️ straight-leg jeans: everyone and their mother can rock them (seriously, they don't get the nickname 'Mom Jeans' for nothin'!). The 90's inspired silhouette hugs you in all the right places and looks flattering on all body types. Reason number 6981 we ❤️ straight-leg jeans: they're versatile enough to pair with heels, boots, AND tennis shoes…talk about a win-win-win! From high-waist and exposed button fly to cropped and slim ankle, the number of styles within the straight-leg family are not lacking, which means everyone can find the fit that works best for them.
TIPS
— Finding the perfect fit is key for this denim style. Grab a pair that sits at or slightly above your belly button and hugs your booty. The thigh area should be somewhat fitted but not overly tight.
— Need a little extra room? Look for fits that are specifically made for curvier body types. The "boyfriend" style could also make a great alternative. (More on this category below!)
— The bottoms of your beloved mom jeans should taper down for a more relaxed fit and shouldn't be tight around your calves and ankles.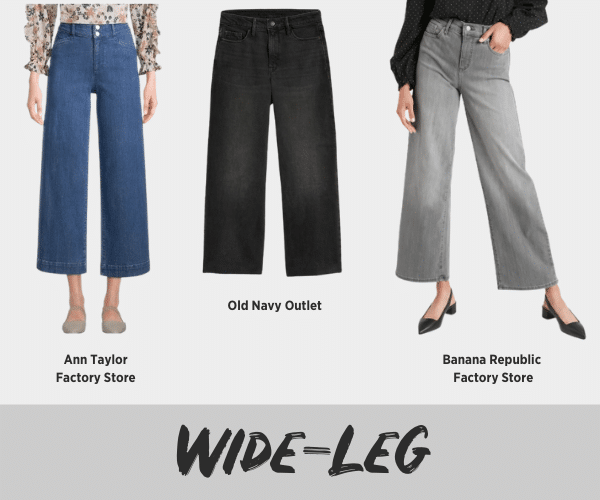 Wide-eyed, wide-leg beauty. Turn your look from casual to sophisticated with these bold, retro-inspired jeans! We get it…this style of denim can be intimidating at first glance but it's all about balance. Not sure what to wear up top? Try a crop top or something more form-fitting to contrast the volume below and to help accentuate your waist. Generally speaking, ladies with longer legs can pull this style off with a bit more ease than those who are shorter in height. However, petites can definitely rock this look with the right pair!
TIPS
— If you're on the shorter side, look for high-waisted, full-length styles to help elongate the legs, stick to neutral colors, and throw on a pair of pointed-toe shoes.
— Avoid drowning in fabric by tucking in your tops (cue Tan France's French Tuck trick) and add a slim belt for extra detail.
— Not ready for this much flare? Test the waters with a slimmer opening where the jean flares from the ankle.
Boyfriend not required. This street-style favorite embodies that 'cool kid on the block' (or at brunch ) vibes – all while providing supreme comfort.
Swap your yoga pants (gasp, how dare we!) with a pair of slouchy, laid-back boyfriend jeans for a look that's both effortless and ultra stylish for all your off-duty activities. Like straight-leg jeans, boyfriend jeans come in a variety of styles: cuffed, ripped, oversized, high-waisted and more. This style of denim can complement just about all body types, but of course finding the right fit is key!
TIPS
— Boyfriend jeans are meant to look lived-in and slightly oversized, but we recommend finding a cut that's not overly baggy on you for the most flattering look.
— Because we need another reason to love this style, boyfriend jeans can be dressed up or down. Pair with sneakers for a casual ootd or elevate your look with a pair of kitten heels!
— Similar to styling a wide-leg jean, a fitted top will compliment this looser fitting jean (especially on petites). Remember, it's all about finding that perfect balance.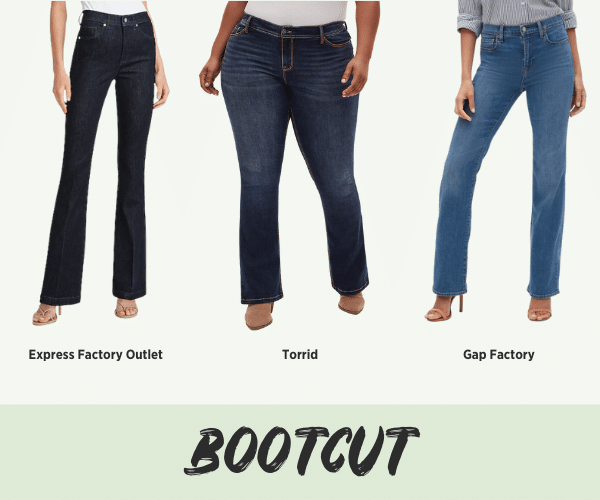 Bootcut jeans are back! Before you start having flashbacks of bedazzled pockets, floral patches and sequins galore, you can rest easy; the comeback denim of the year is far more refined and wearable for all ages and sizes. Bootcut jeans are truly flattering on everyone when the length is correct. While you can get away with sizing up with boyfriend jeans and straight leg jeans, bootcut jeans look best when they are hugging your curves in alllll the right places.
TIPS
— Look for higher-waisted options and darker washes to help lengthen your legs. Stay away from rips with this style!
— Do not cuff bootcut jeans and avoid tennis shoes! A pointed or almond-toe shoe looks extra sleek, and a heel most definitely won't hurt (to look at, anyways).
— Show off that gorgeous shape! Avoid looking boxy by pairing your bootcuts with a more fitted top, bodysuit or tucked in shirt (lightweight sweaters are also a great option for spring and fall). No long tops!
Phew! So many styles, so much time to shop! Whether you're looking for a tried and blue staple that complements your busy schedule (and all the tops in your closet), or you're on the hunt for a statement-making pair that makes you feel confident and beautiful in your #ootd post, Legends Outlets has you covered on all the best denim styles for every beautiful body at every price point!
Check out our sizing chart below to help guide you on your journey to finding that perfect pair. Cheers & happy shopping!