From flowy floral dresses to classy gingham silhouettes and pretty polka dots, we're having fun with fashion in spring's top patterns! Whether you're a minimalist or a print enthusiast, Legends Outlets is here to help you navigate the season's hottest trends from low-key details to bright and bold designs.
FLORALS
Spring without florals is like the 70's without disco, unimaginable. This spring we're traveling back in time to the iconic era with 70's wallpaper inspired floral patterns, like this pink and red dress from Kate Spade outlet. Très mod, très retro, très-statement making. Just add platform sandals and go!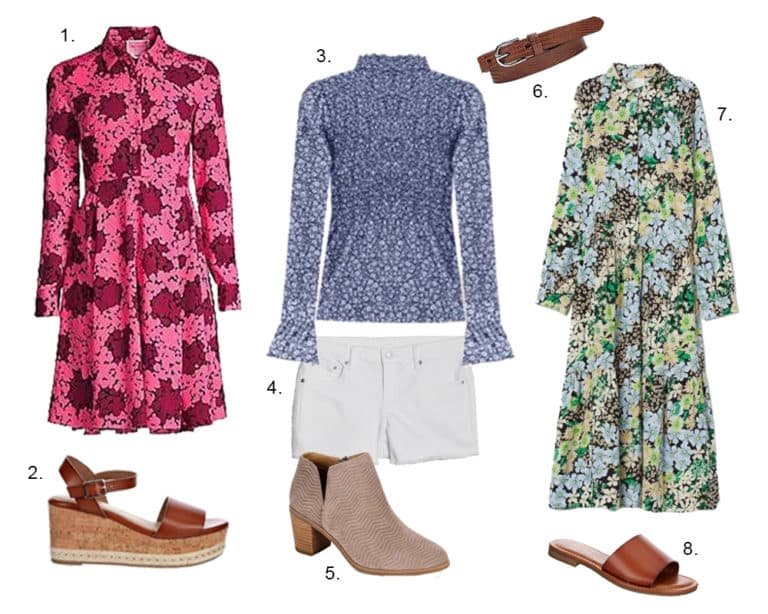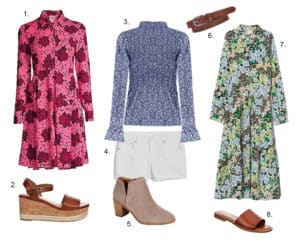 Pro Tip: If 70's wallpaper gives you anxiety, you can still participate in the floral fun with bohemian floral, a more subtle take on the trend. Pair a boho-print blouse with cute cut-offs and booties, or try a boho-floral print maxi dress, cinched at the waist with a leather belt and sandals.
1: Kate Spade Outlet. 2: Off Broadway Shoes. 3: Francesca's. 4: Gap Outlet. 5: Off Broadway Shoes. 6: Banana Republic Factory Store. 7: H&M . 8: Off Broadway Shoes.
POLKA DOTS
Mini Mouse…but make it fashion. Polka dots are having a major comeback, and we've seen them EVVV-ERRR-YYY where this season. Go bold or go home in this knit mock-turtleneck sweater from H&M – it's playful, chic and easy to dress up or down. Pair it with a distressed pair of high-waisted jeans and sneakers for a more casual look, and throw on a moto jacket over to add some edge. For a more sophisticated style, pair a polka dot midi skirt with your favorite white tee and some strappy heels.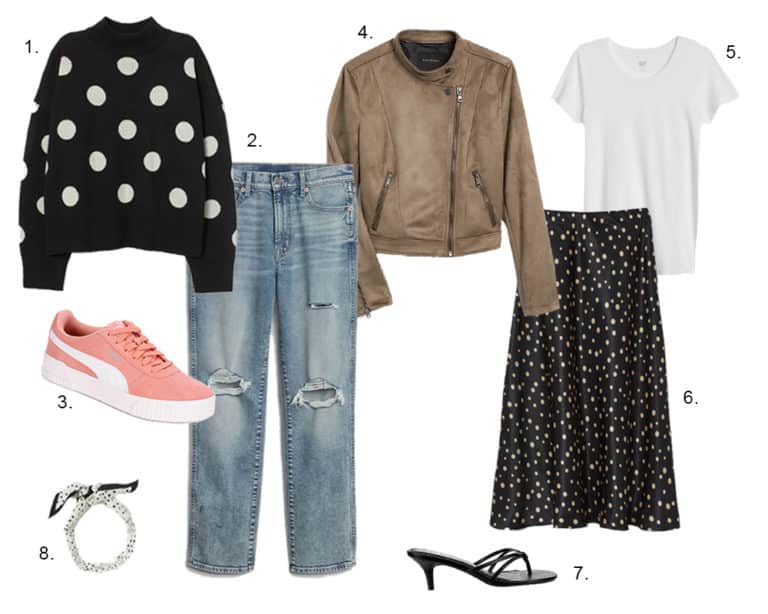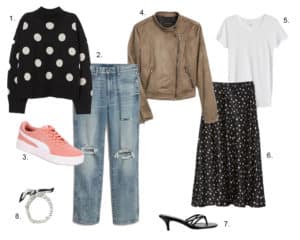 Pro Tip: If you're not ready to jump headfirst into the polka-dot trend, opt for a head band or head scarf instead.
1: H&M. 2: Gap Outlet. 3: Off Broadway Shoes. 4: Wilson's Leather. 5: Gap Outlet. 6: H&M. 7: Off Broadway Shoes. 8: H&M.
GINGHAM
If this dress from J.Crew Factory doesn't make you want to go on a picnic, we give up. The preppy pattern has been a wardrobe-staple for decades, but the look gets an exciting upgrade this spring with new shapes, bright colors and two-piece sets. We can't help but LOVE the versatility of the navy-white style, too.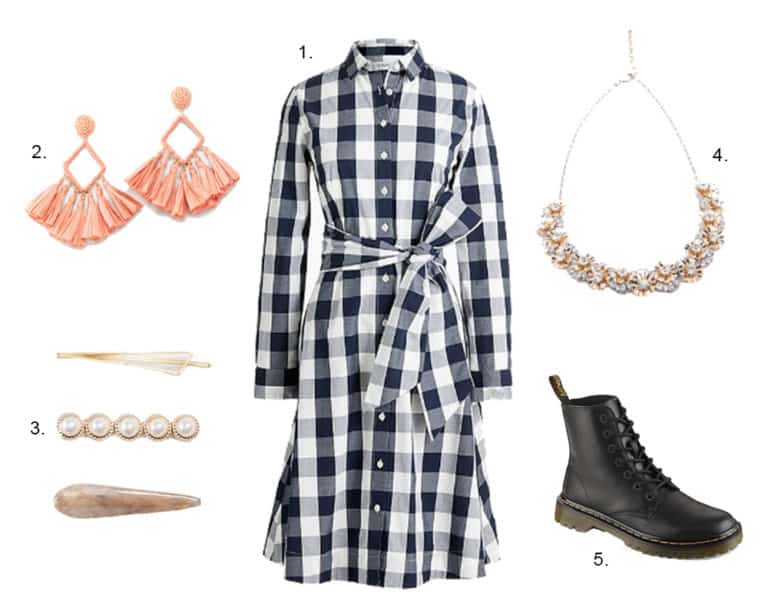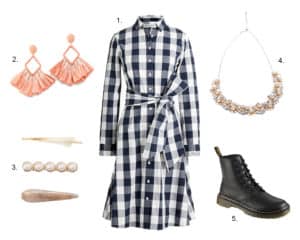 Pro Tip: If you're worried about looking like a schoolgirl or Dorothy from The Wizard of Oz, glam up the look with eye-catching accessories like a statement necklace, bold earrings, glitzy barrettes, or grunge it up with some lace-up Dr. Martens.
1: J.Crew Factory 2: Francesca's. 3: Ann Taylor Factory Store. 4: Francesca's. 5: Off Broadway Shoes.