The highly anticipated Taylor Swift Eras Tour at Arrowhead Stadium is almost here, and as a dedicated Swiftie, you want to look your absolute best while singing along to your favorite songs. Luckily, Legends Outlets is here to help you find the perfect fits that'll make you shine like a star! With a diverse range of stores offering show-stopping styles, you'll have no trouble finding the ideal ensemble to match the Taylor Swift vibes. Let's dive into the fashion frenzy and discover the best places to shop for every era.
Still need a ticket to the show?? Stop by Dave & Buster's on Friday, July 7 for your chance to win TWO FREE tickets! Click here for more details.
Debut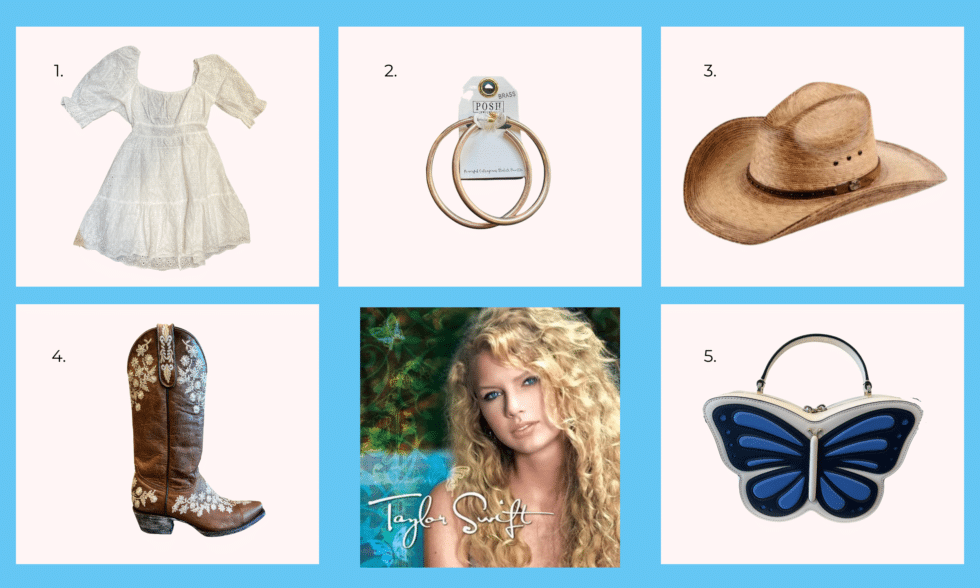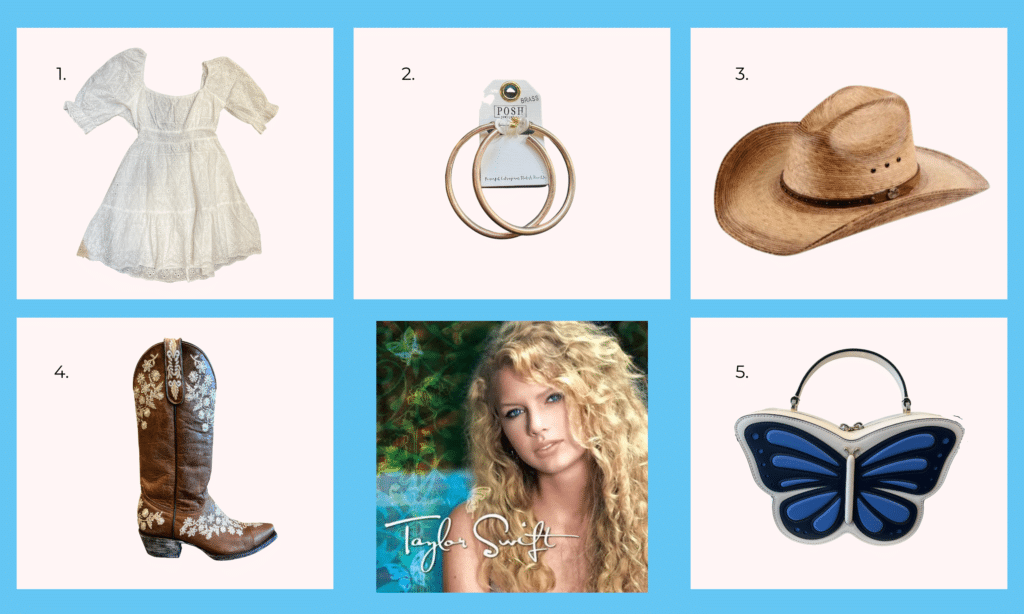 At just 16 years old, Taylor captivated the world with her sweet and innocent country-inspired style. To mimic her 'Debut' Era charm, head over to Cavender's to find delicate sundresses, cowgirl boots, and small accessories for your country-princess Era.
Fearless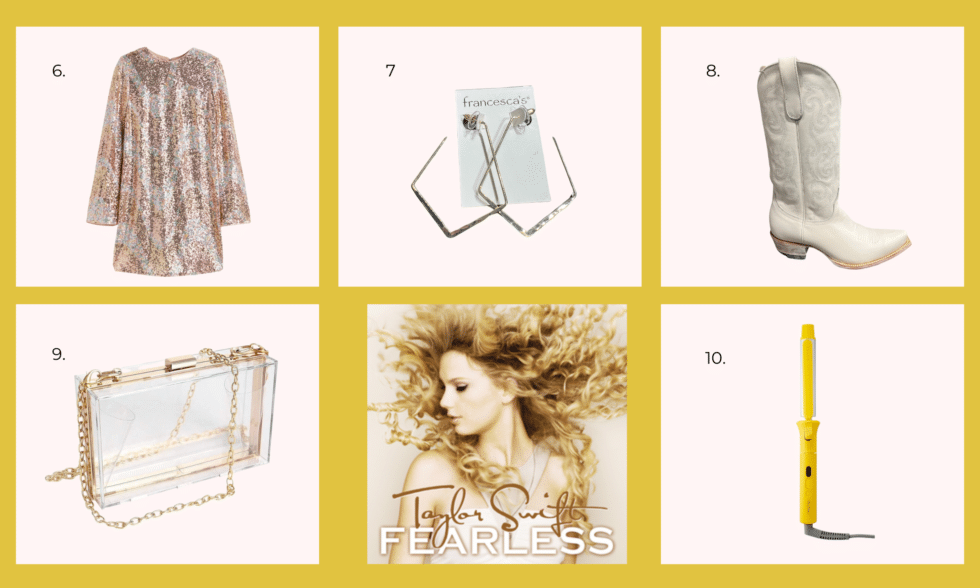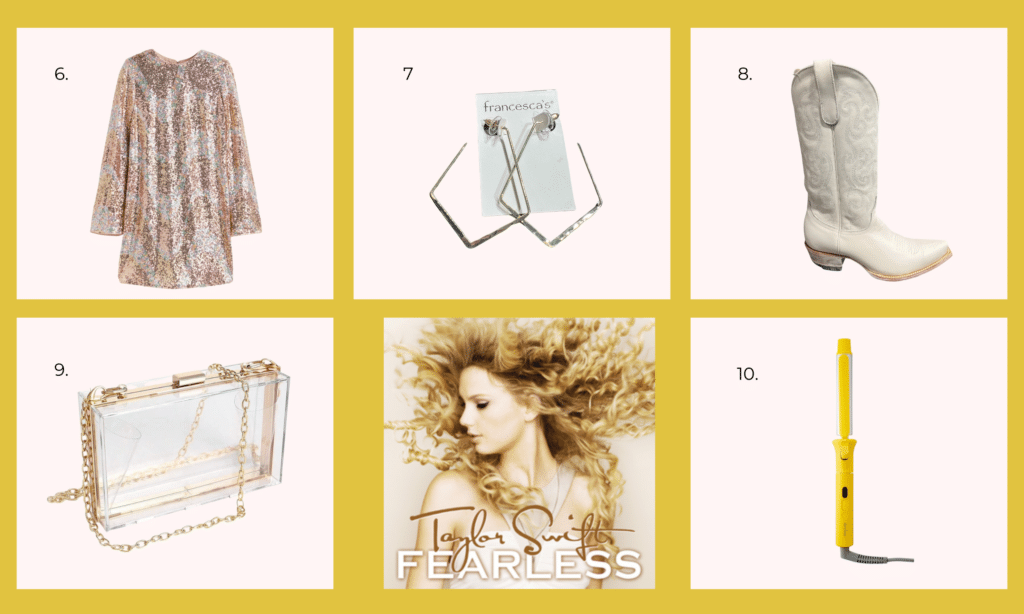 Taylor's Fearless Era marked her transition into the world of pop while still embracing her country roots! With a sparkly dress, flawlessly curly hair, and a clear clutch that's both fashionable and convenient, you know you'll have The Best Day while watching Taylor on stage.
Speak Now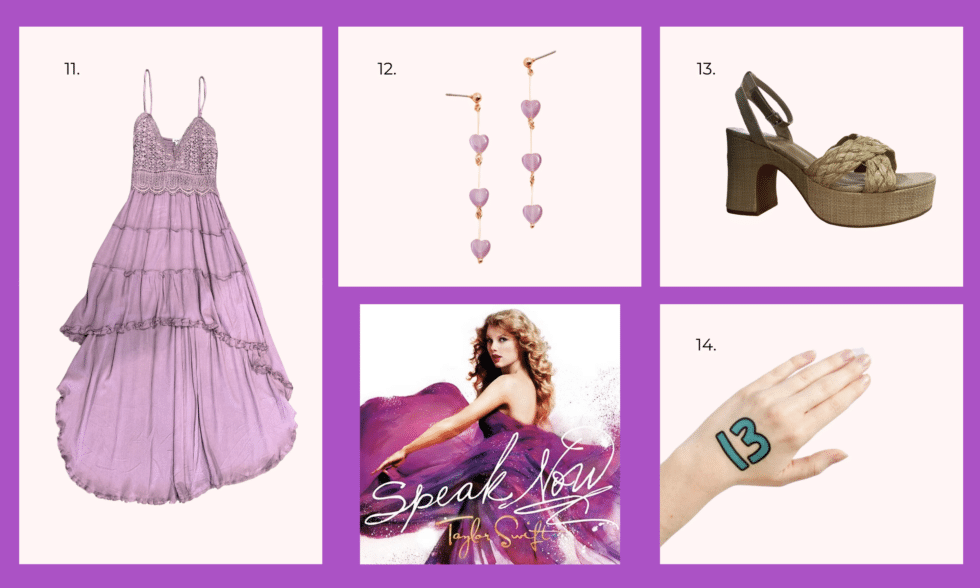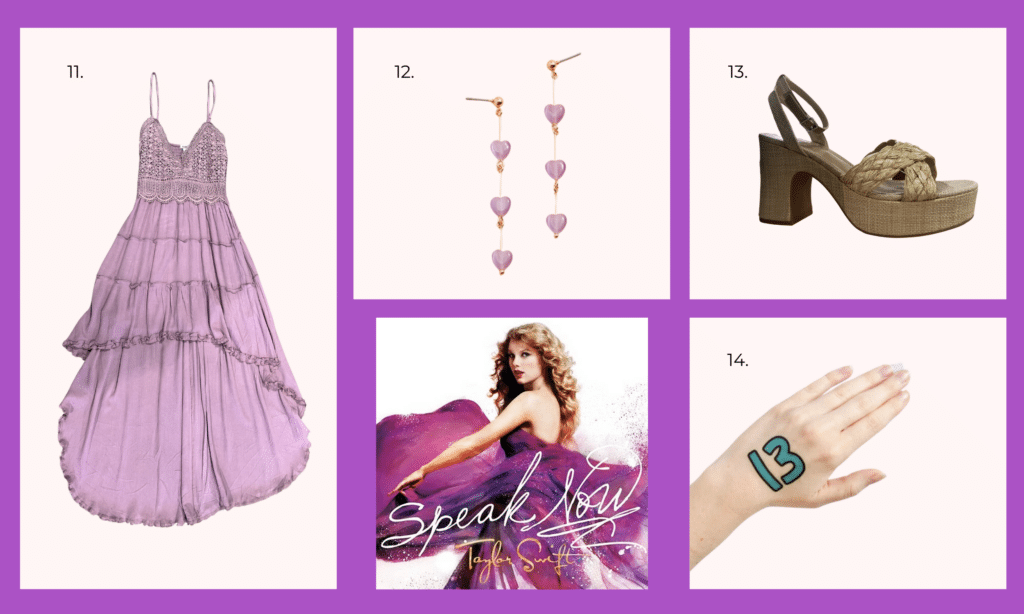 Tap into your inner diva by opting for this glamorous concert 'fit! Make a powerful statement with a feminine, purple dress and statement earrings. Add a special touch to this look with a '13' on your hand, just like Taylor did in the 2010s.
Purple High-Low Lace Dress, Rue 21
Dangle Heart-Shaped Earrings, Francesca's
Braided Platform Heels, Off Broadway
DIY '13' Hand Tattoo
Red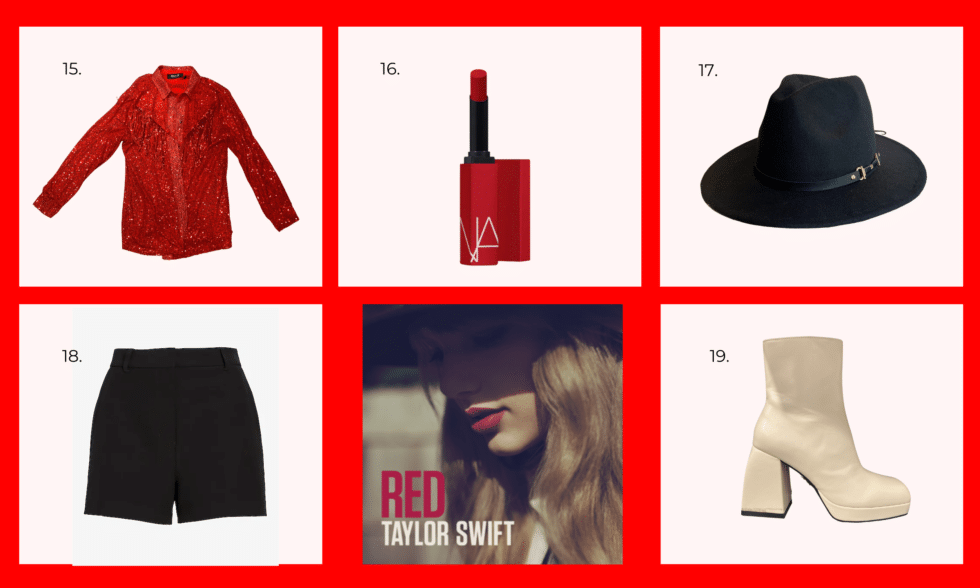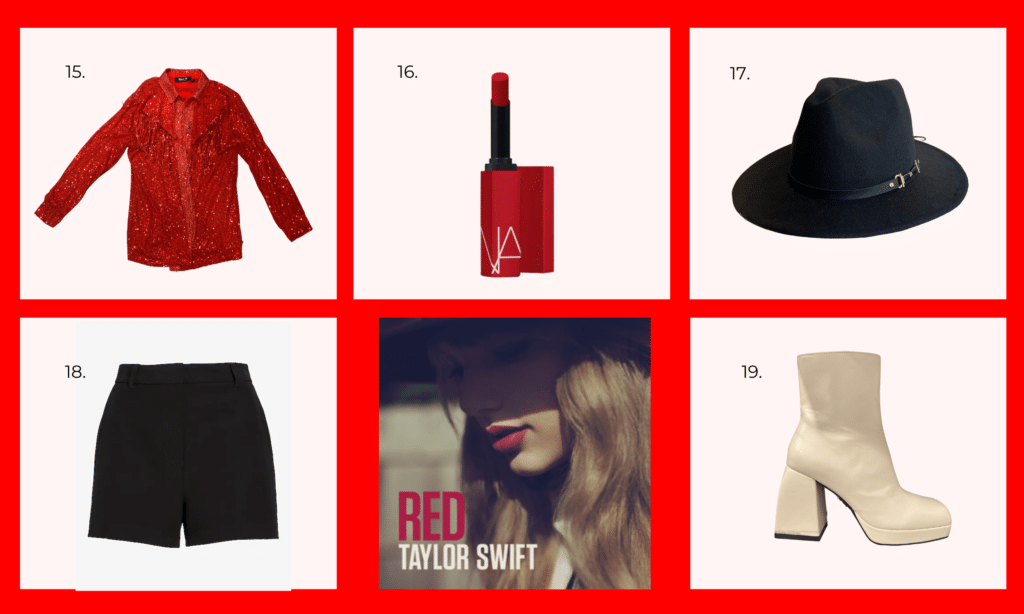 When Taylor created the Red album, it brought out a cool, rebellious side of her. Capture the essence of her vulnerability with a bold, rock'n'roll look. Don't forget to swipe on some matte red lipstick to complete this energetic look!
1989
Don't be afraid to wear vibrant colors when showing off Taylor's 1989 Era. This album was a major turning point in her career as she embraced a new, sophisticated sound. Shake It Off all night long with a concert-worthy sequin top and shimmery eye shadow in a variety of colors.
Reputation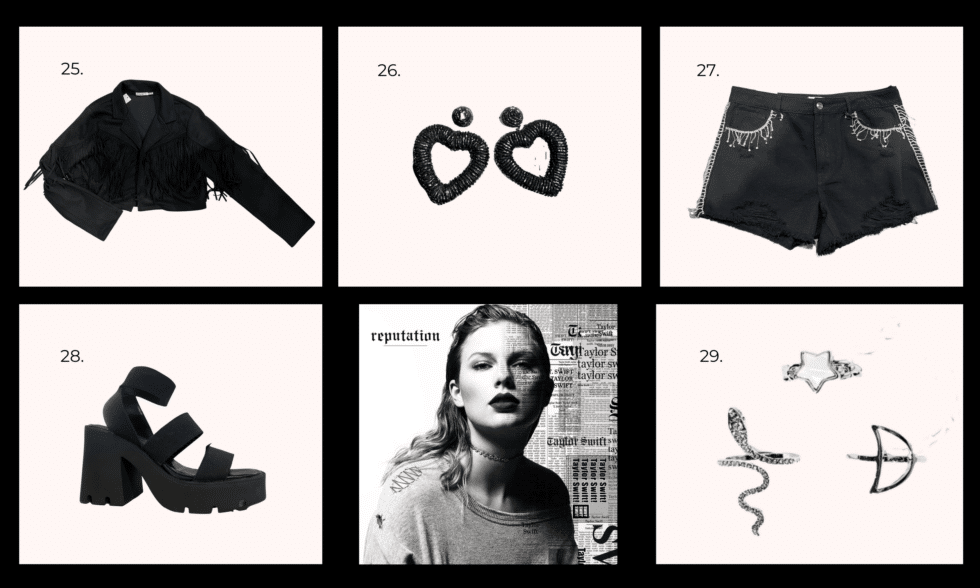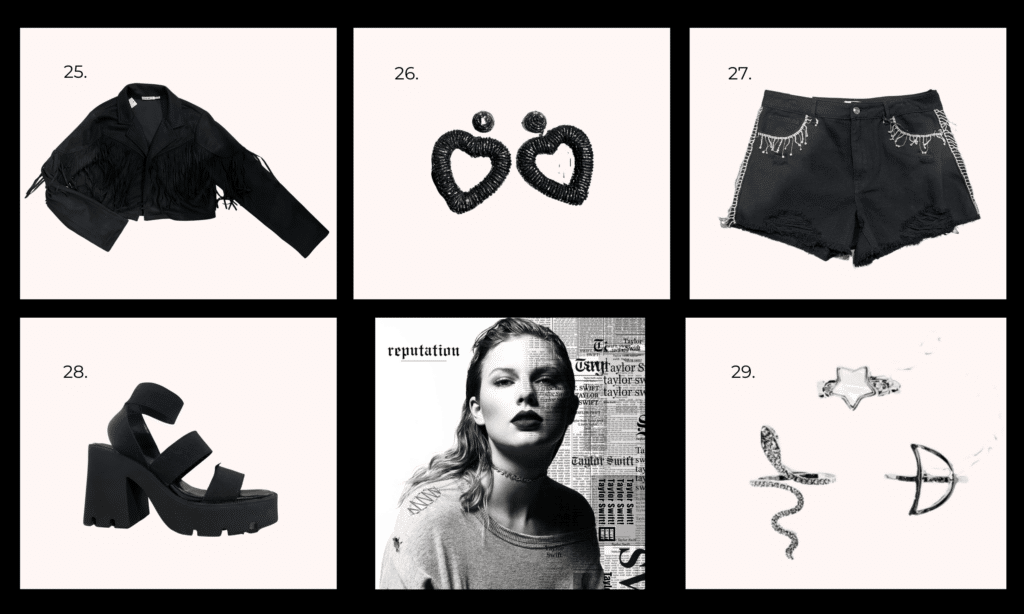 Show off your dark side with edgy fashion choices and powerful messages. Represent the Reputation Era with chunky platform sandals, a cool fringe jacket, and statement jewelry to embody a fearless attitude and vibe.
Lover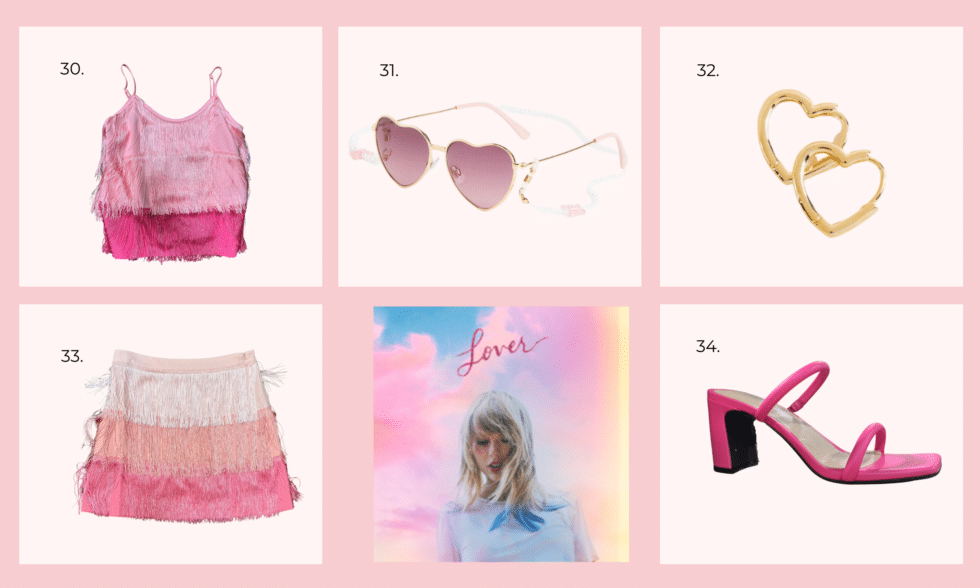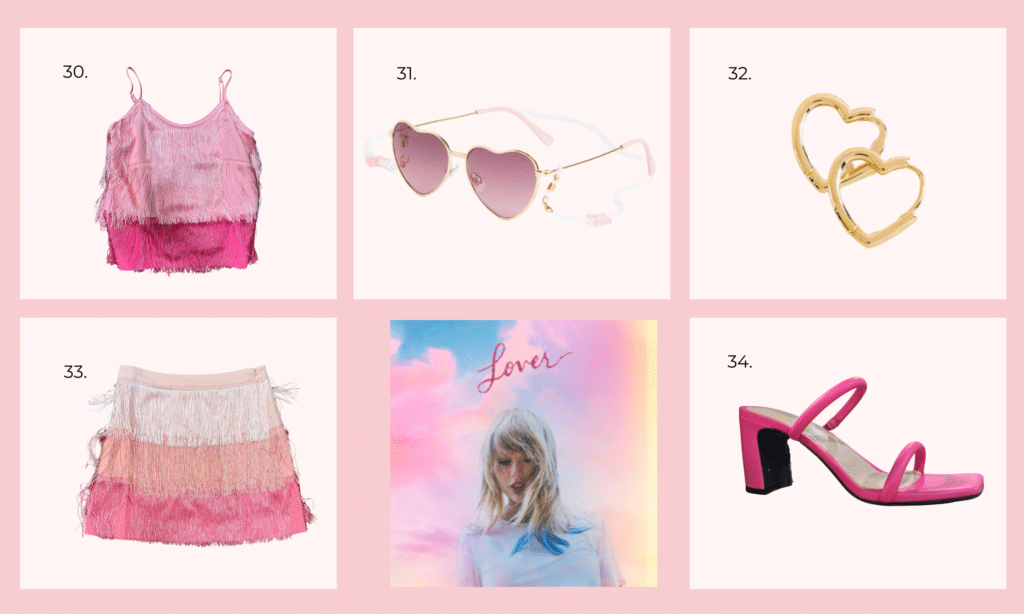 Embrace the elegance of her Lover album as it celebrates love, vulnerability, and whimsical romance. Showcase the album's pastel hues and dreamy aesthetic with a delicate two-piece fringe set. Finish the 'fit with heart-shaped accessories to give off that Afterglow look from one song to the next.
Folklore, Evermore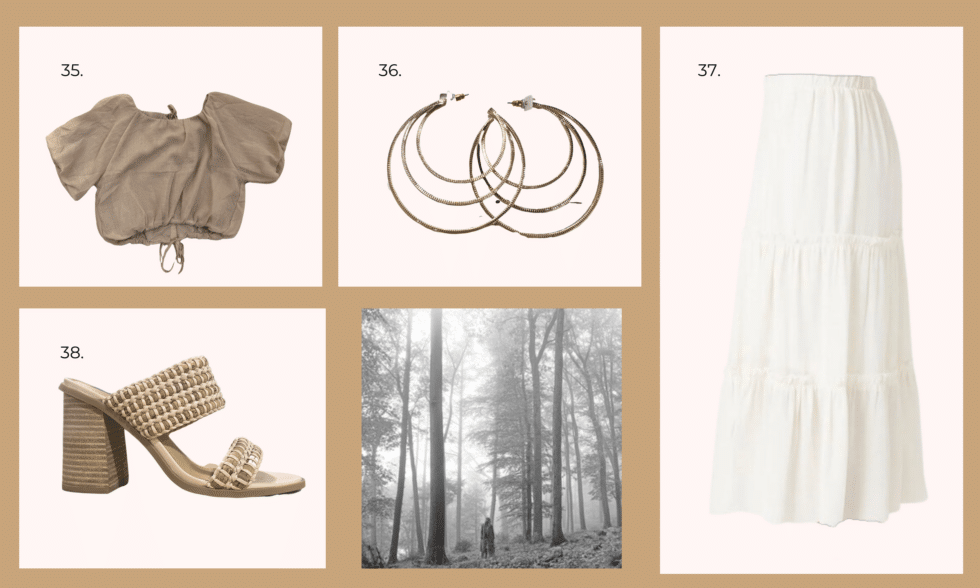 With dark, folk-like soundscapes, the Folklore and Evermore Era invites you to embrace a more mysterious and enchanting concert style. Choose this bohemian-inspired ensemble with flowy pieces and soft, neutral tones to look effortlessly chic while singing Champagne Problems.
Midnights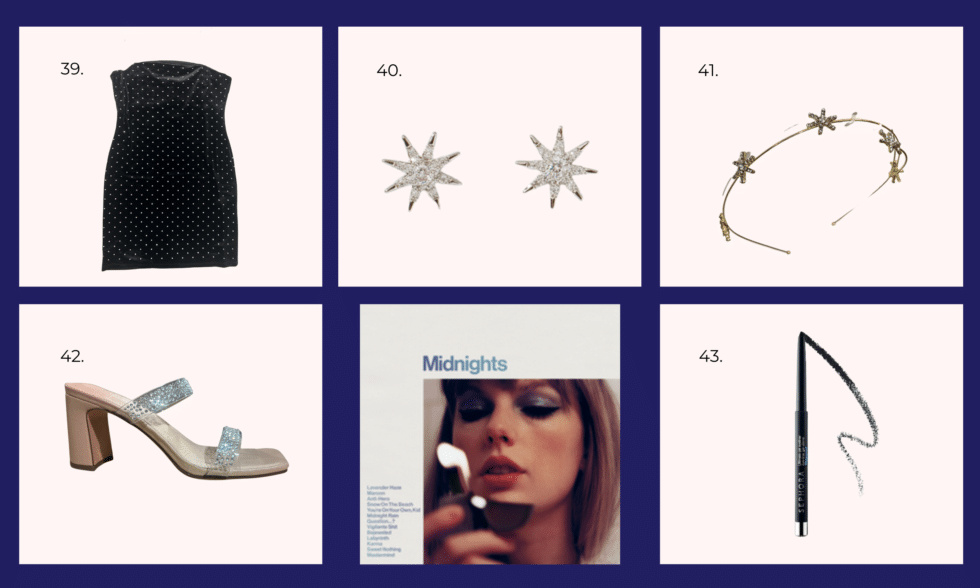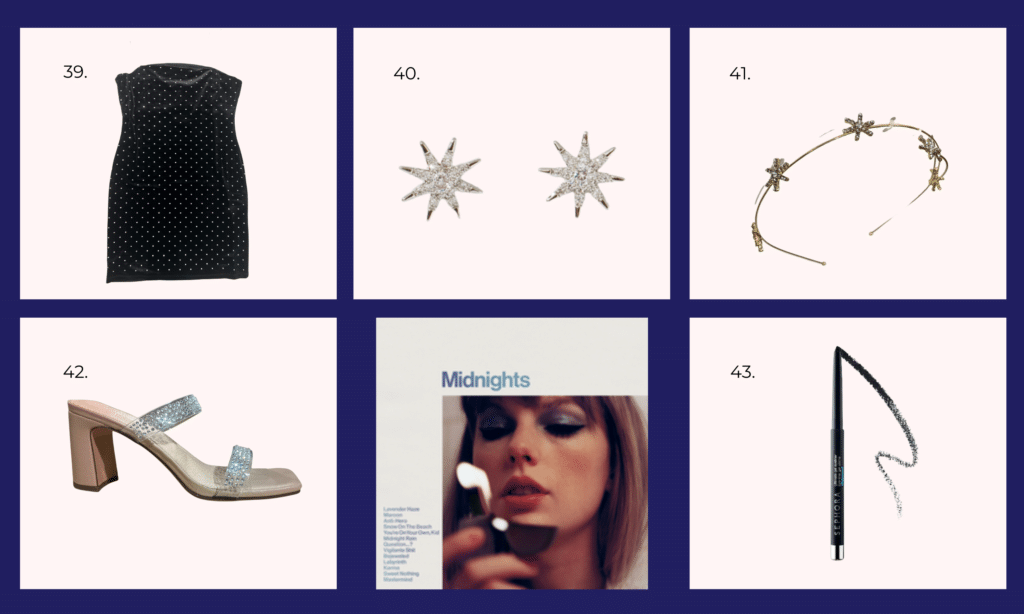 Taylor Swift's surprise album, Midnights, delights listeners with its refined, new sound. Capture the retro-glam aesthetic of the album with an outfit that exudes greatness and confidence. Choose a black mini dress with dazzling details and pair it with shiny, silver accessories and a smoky eye.
The Taylor Swift Eras Tour promises to be an unforgettable experience, and finding the perfect outfit is an essential part of all the excitement! Whether you want to embrace her cowgirl roots, channel the confidence of her pop anthems, or rock out with an edgy look, Legends Outlets has something for every Era! So, go ahead and unleash your inner Swiftie, and prepare to dazzle on July 7-8!