With Thanksgiving and Christmas and all the festive, family celebrations in between, it's a fun time of year for you and yours to look the very best … and look good together! Whether your dinners and parties provide lots of photo opportunities, or if you're planning professional photos for your holiday cards this year, we put together a stylish, cohesive palette to dress the whole crew this holiday season. Featuring popular boots, pleasing color combinations, and some of the hottest trends for every member of your family, we've got you Instagram-ready for the holidays! 
TIPS FOR CREATING A COORDINATING VIBE FOR YOUR FAMILY'S OUTFITS
Step 1: Pick a common color to feature in every outfit and don't go overboard with it. We picked fall's hottest take on red — a rich maroon — and gave everyone just one piece or two with the accent color to avoid looking "matchy-matchy". 
Step 2: Stick with individuals' style. For example, we dressed up mom and dad, but kept the kids comfy.
Step 3: Work in a unique trend for each person and don't overthink it! We gave each family member a signature "pop" of style from the season's hottest trendspotting! 
Step 4: Keep it practical. We love the boot trend so we dressed up a super-practical footwear idea for every member of the family, and focused on individual pieces everyone can keep in their wardrobe for the rest of the winter!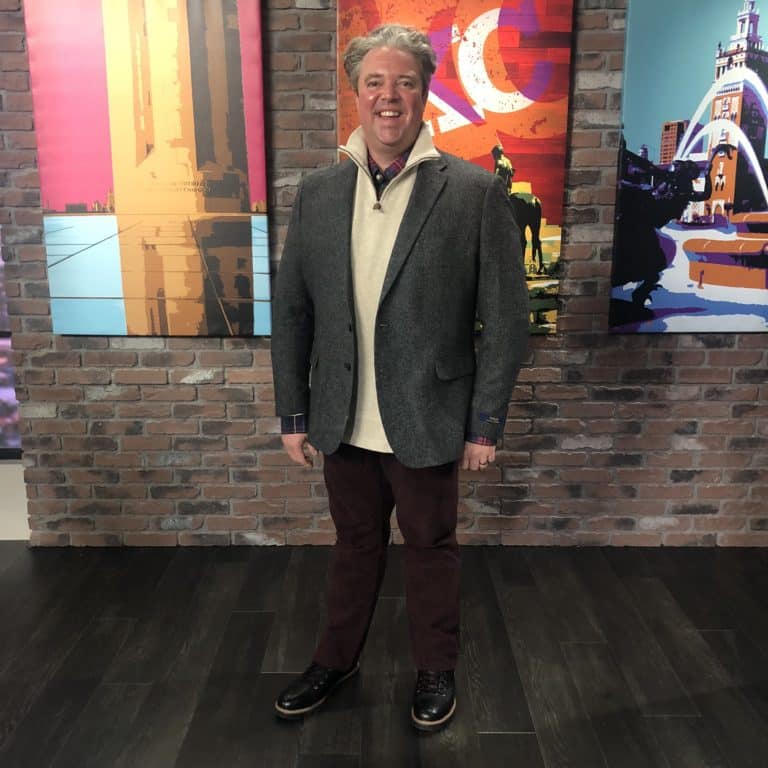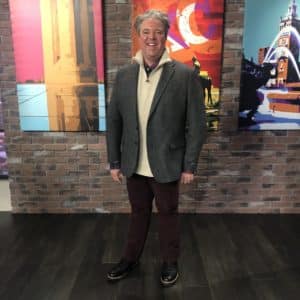 DAPPER DAD
Dad's burgundy color makes an appearance as soft, rich maroon corduroy pants and for his trend focus, we dressed up his black hiking boots and casual layers with a tweed blazer.
On Ryan: jewel-toned cotton plaid button-front oxford, oatmeal quarter-zip lightweight sweater, black and grey tweed blazer, maroon corduroy pants, all from Polo Ralph Lauren Factory Outlet; black steel grommet lace-up hiking boots from Off Broadway Shoes.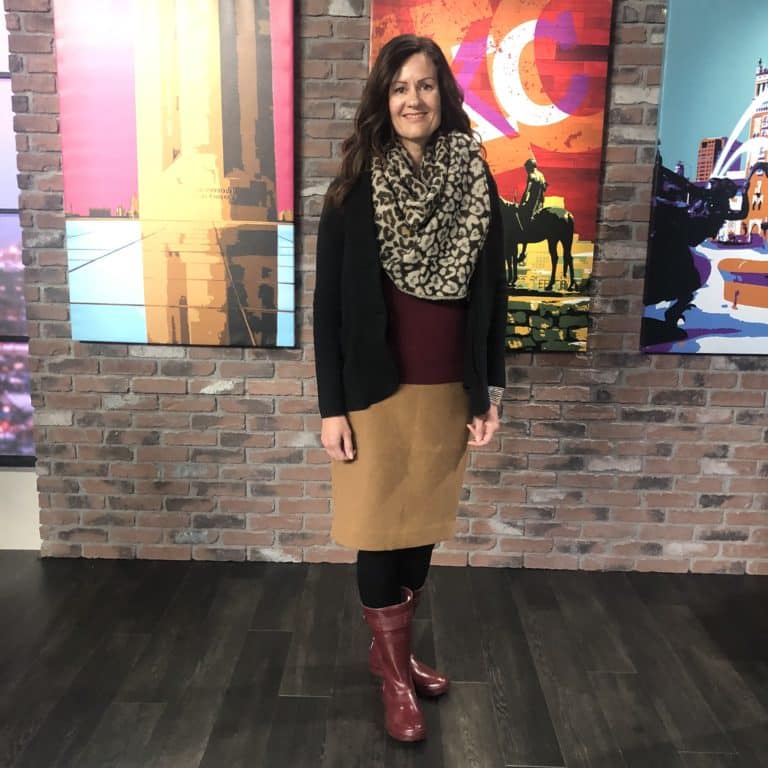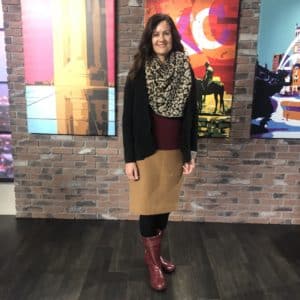 CHIC MOM
Mom's burgundy is anything but basic with sleek and shiny wellington boots and an ultra soft lightweight layering sweater. Her signature trend for the season is an upscale camel and cheetah combo! 
On Robin: classic crewneck sweater, soft cotton sweater blazer, wool blend pencil skirt, opaque black tights, oversize cheetah print blanket scarf, all from J. Crew Factory Outlet; Walker Atlantic wellington boots in oxblood by Sperry at Off Broadway Shoes; pave stacked cuff gold bracelet, gold fringe bib necklace, maroon beaded necklace, faceted maroon and pave stud earrings from Francesca's.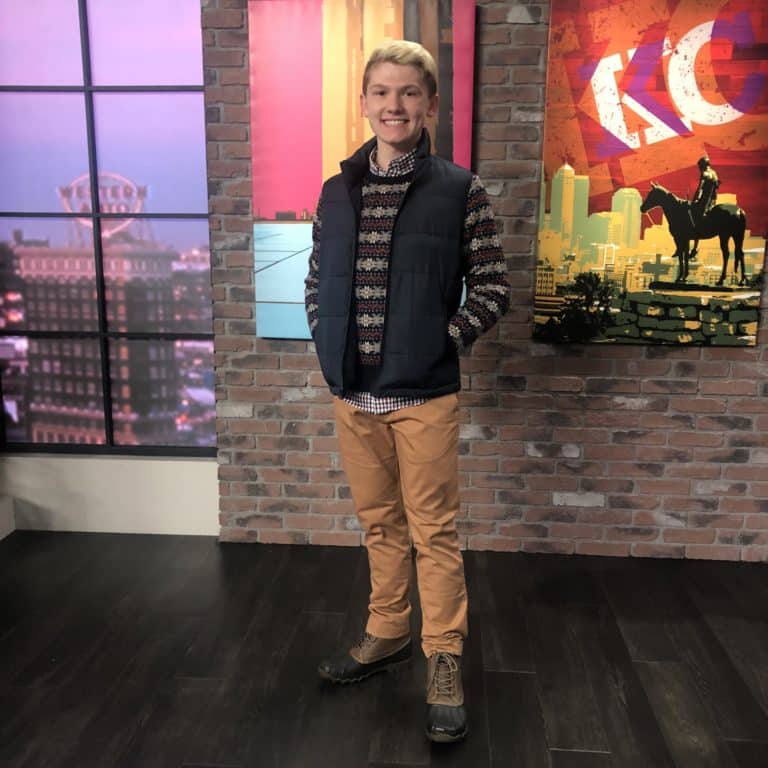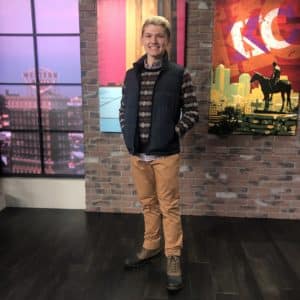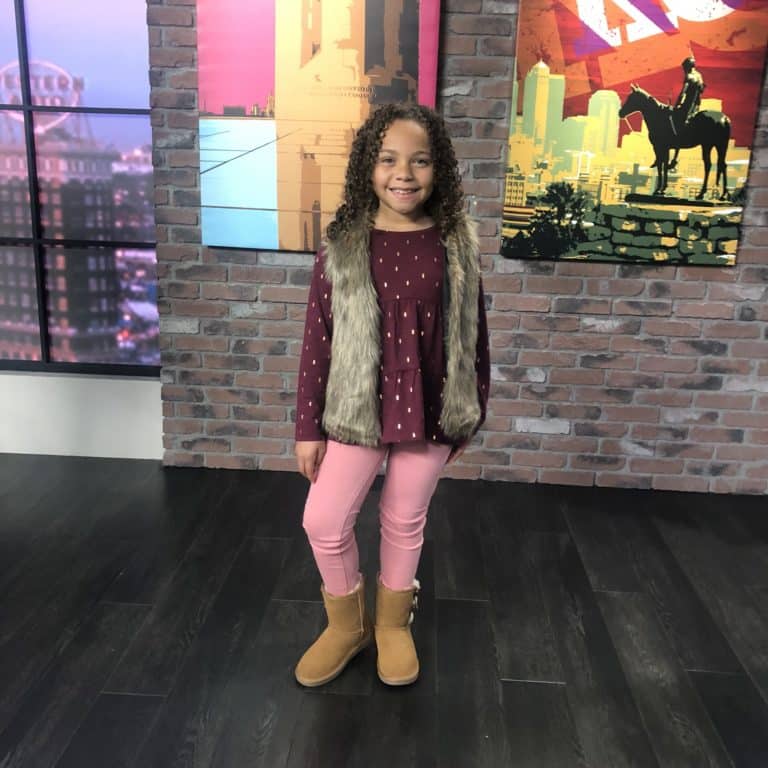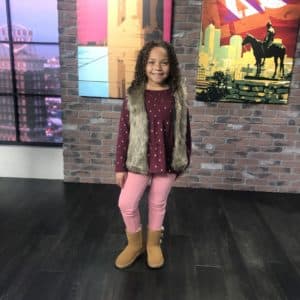 COZY KIDS
Big brother is keeping it chill in relaxed and comfy staples with just a hint of maroon in his layered shirts. His style focus this season is the hit puffer vest and duck boots.
On Zachary: warm camel skinny chinos, maroon and navy plaid button-down oxford, navy, beige and maroon fairy isle sweater, navy blue puffer vest, all from  J. Crew Factory Outlet; navy and brown Brewster waterproof duck boots by Sperry from Off Broadway Shoes.
Little sister is ready for after-dinner snuggles in her soft and flowy maroon top. Her pop of style comes from metallic rose gold accents, sherpa, and faux fur–a big hit this holiday season for any age! 
On Mia: burgundy empire waist blouse with metallic rose gold embroidered details, faux fur vest, coral pink ballerina jeggings, all from Old Navy; camel sherpa boots with bow detailing by Koolaburra by Ugg at Off Broadway Shoes.