Find trendy outerwear pieces at Legends Outlets' retailers to transition from one season to the next in style!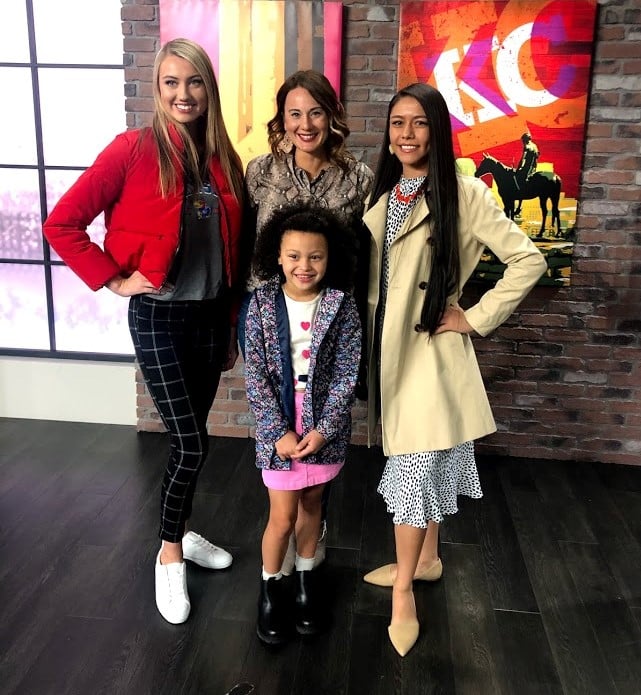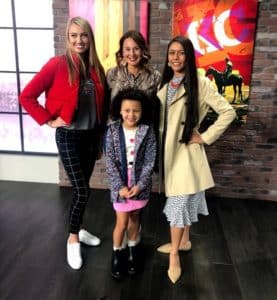 Well, the groundhog saw his shadow…is it spring yet? But seriously, February can be a tricky month when it comes to fashion. Spring fever is on the horizon and the styles have hit the stores, but let's be honest…..it's still cold in KC! We are all tired of our winter bundles and ready for a fresh dose of fashion, but Mother Nature just seems to be on a different wavelength. Thankfully, there are numerous options for transitional outerwear that will take you from season to season in style while keeping you warm.
Our stylists took it to the streets at the Legends Outlets to find the best of the best when it comes to jackets and coats for late winter and early spring. Layered up with other seasonal pieces, these gorgeous jackets are showstoppers and put the "fun" in function.
Look 1: Chic Camel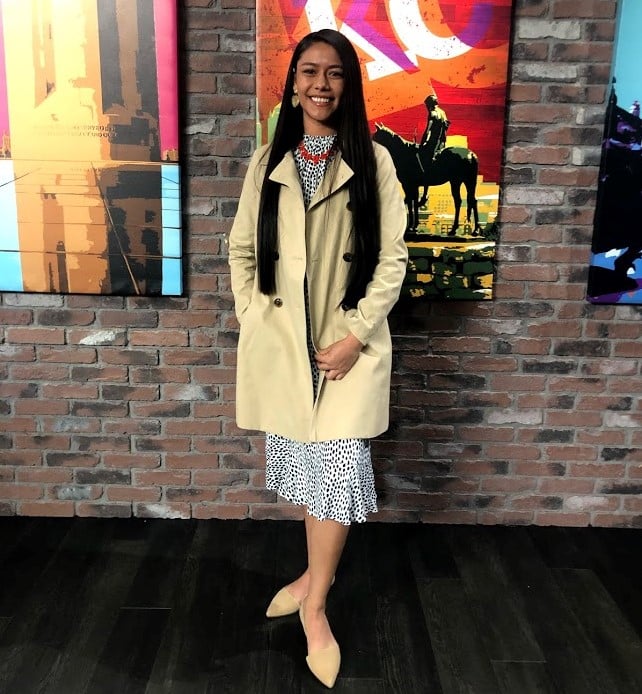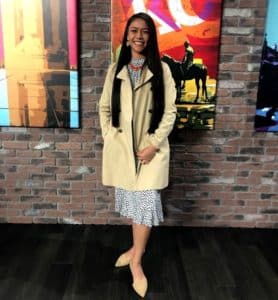 Want to make your outfit instantly chic? Throw on a camel-colored trench coat over a tailored dress, or a pair of jeans and a sweater, and you're ready to take on any situation in style. When shopping for the perfect trench coat, shop fit first—the key is making sure the coat fits you well through the shoulders and the bust. There are tons of affordable options for trench coats on the market, but don't feel guilty spending a little more on an item like this because it is so timeless and won't go out of style.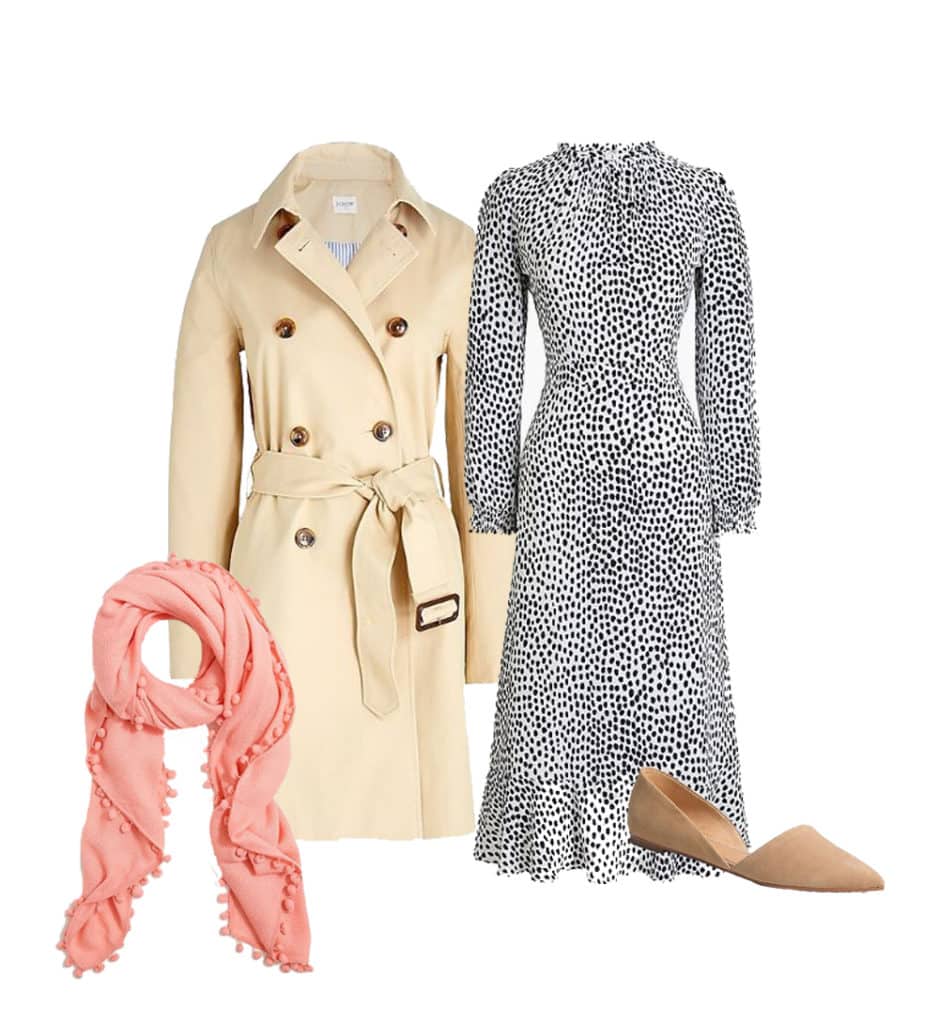 GET THE LOOK: Trench coat, dress, flats, necklace and earrings: J.Crew Factory
PRO TIP: Most classic trench coats come with a built-in belt. To show off your outfit underneath the trench coat, try tying the coat's belt in the back to nip in the waist and give your jacket more shape.
Look 2: Colorful Puffer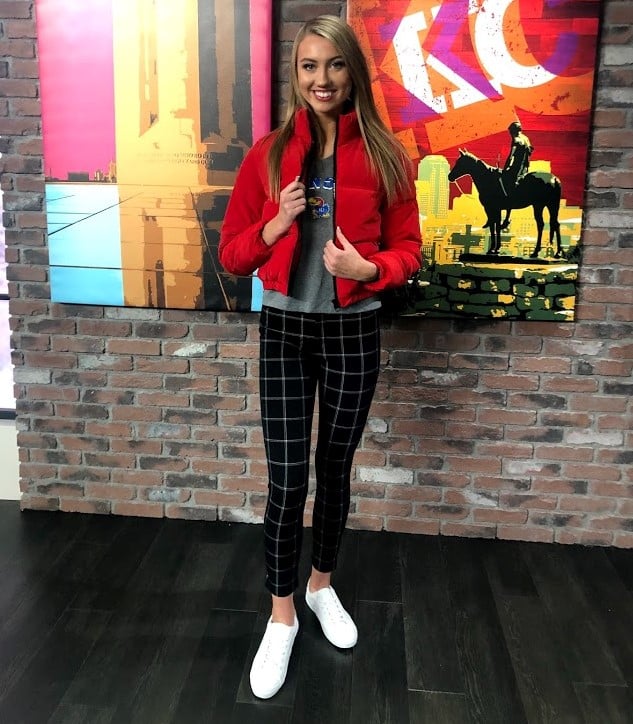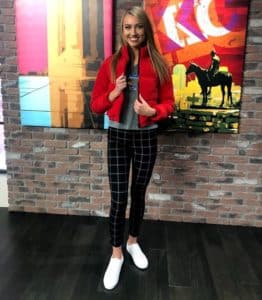 This season, if there's one jacket that you have to have, it's a puffer. Yep, you read that right….puffers aren't just for little kids playing in the snow anymore, and they are also not just for the coldest winter days. On its own, a puffer jacket can read as super casual and sporty. But there are ways to elevate it and make it feel more polished and even professional.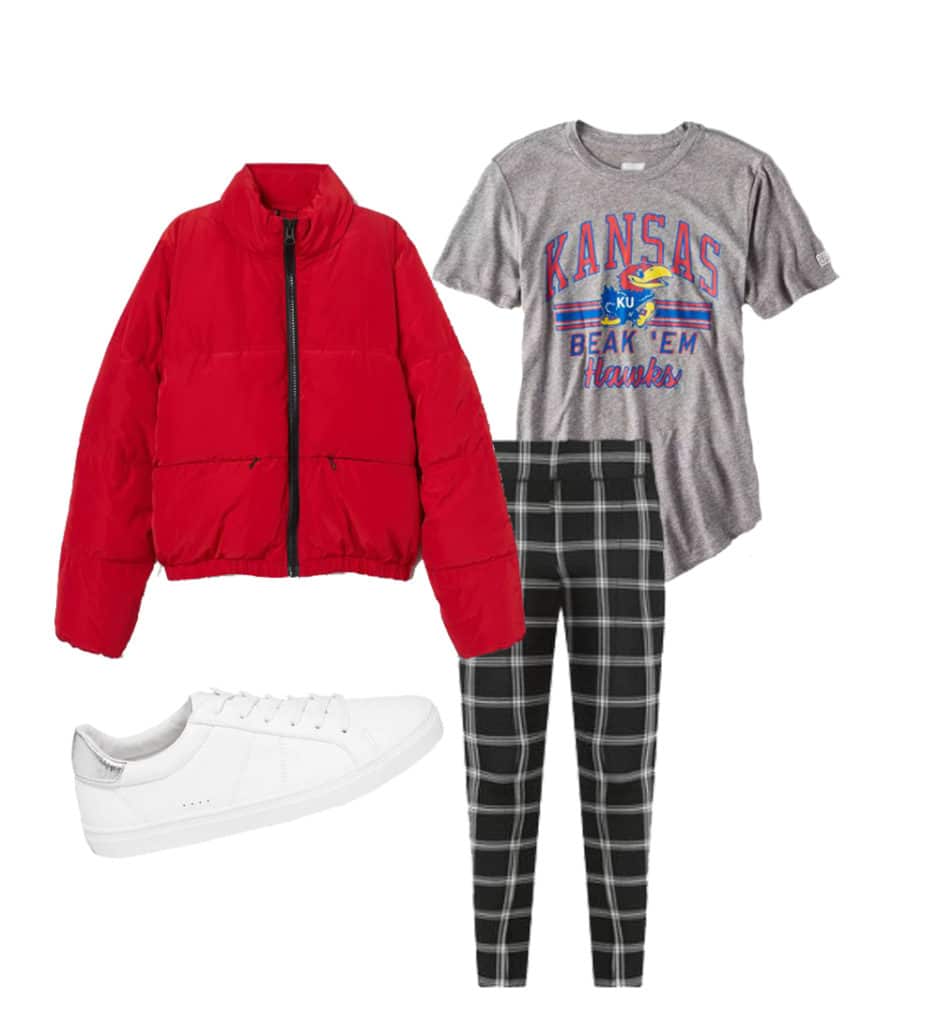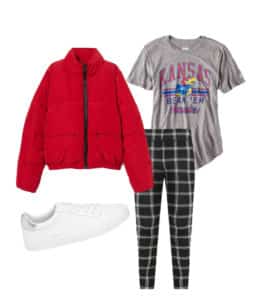 GET THE LOOK: H&M puffer jacket; Old Navy Outlet pants and sneakers; American Eagle logo t-shirt
PRO TIP: When it comes to choosing a color for your perfect puffer, we vote for choosing one that you will get a lot of wear out of—maybe the color of your favorite sports team.
Look 3: Fun Floral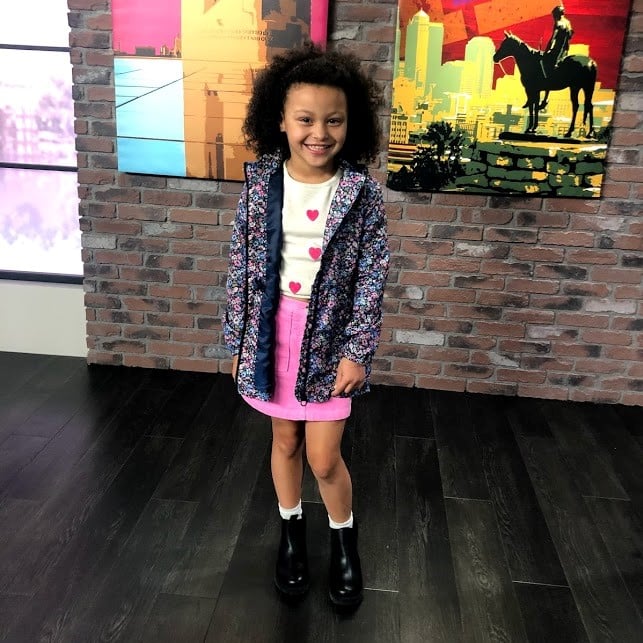 This sweet little floral raincoat from H&M is the perfect layer for those damp, early spring days. Because rain jackets tend to be super lightweight, don't be afraid to layer a chunky sweater or fleece jacket under it for warmth. Look for a fun pattern or even a metallic hue when purchasing a rain jacket for your child. We love this dark floral, which could easily pair with jewel tones and transition to fall later on, so this little jacket is not just a one-hit-wonder.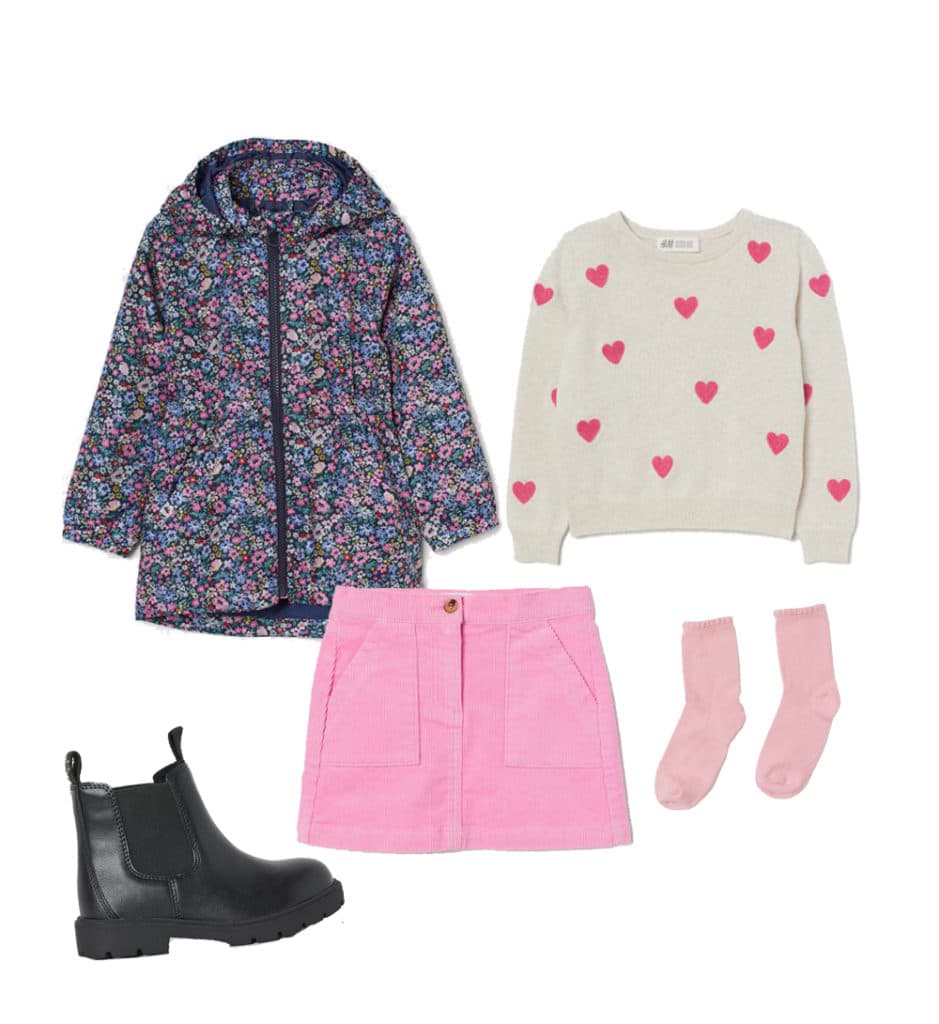 GET THE LOOK:  Jacket, sweater, skirt, boots, socks, and headband: H&M
PRO TIP: Always buy one size up when purchasing outerwear for your kids, so they can get  more than one year out of it.  The oversized look is super on-trend right now anyway, which is also happens to be super practical when you're trying to get a lot of mileage out of your kids' clothes.